Want to buy some RuneScape gold from RuneScapeGoldMarkt? Have second thoughts about whether it is the right platform for that? You are not alone. Finding a decent platform can be difficult, considering all such sites claim to provide the best services. To help you with that, we tested the site and reviewed it. Keep reading this RuneScapeGoldMarkt review to learn more about its pros and cons.

This RuneScapeGoldMarkt review was updated in 2023.



Here is a list of some of the best and worst of what RuneScapeGoldMarkt has to offer:
Pros
The site offers fast transactions.
Plenty of deposit options are available at RuneScapeGoldMarkt.
The site offers live chat support.
Customer support at RuneScapeGoldMarkt is blazing fast.
RuneScapeGoldMarkt accepts payments through crypto options like Bitcoin.
Cons
The prices for RuneScape gold at RuneScapeGoldMarkt are relatively on the higher side.
There are no language options at RuneScapeGoldMarkt besides English.
About RuneScapeGoldMarkt
RuneScapeGoldMarkt is a website where people can buy RuneScape 3 or OSRS gold through a wide selection of payment options. The price for RuneScape 3 gold at RuneScapeGoldMarkt is $0.05 for a million units of gold, and the price for OSRS gold is $0.42 for a million units.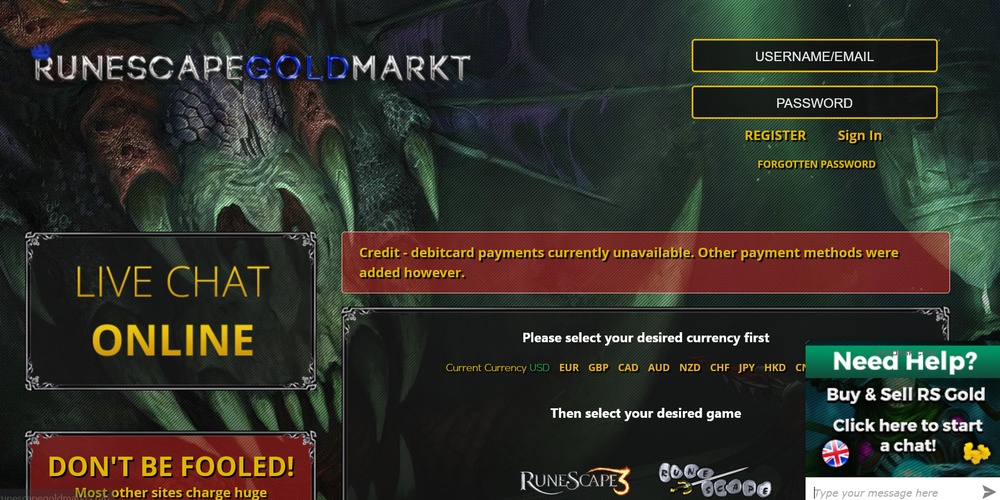 Our RuneScapeGoldMarkt Review
The RuneScapeGoldMarkt platform has several positives. As a start, the website is super responsive and easy to use. Also, the registration process took only a few seconds and did not seem complicated. The RuneScapeGoldMarkt website also has a great design, and it took us back to the nostalgic memories of 2001 RuneScape.
Adding to the list of positives, RuneScapeGoldMarkt also has live chat support. We contacted customer support to test their response times and were pleasantly surprised. A support agent responded to us within a couple of seconds. Also, they were quite polite and answered all our queries. On top of that, the platform also has a plethora of payment options.
However, RuneScapeGoldMarkt lacks a bit in the pricing department. They aren't as competitive, and we found several sites offering gold for lower prices. Concluding this RuneScapeGoldMarkt review, it is definitely worth a try. However, we feel there are better options with better pricing.
RuneScapeGoldMarkt Key Features
Games/Activities: OSRS gold.
RuneScapeGoldMarkt has an excellent rating of 4.9 stars and hundreds of reviews on Trustpilot.
Deposit Methods: PayPal.
Crypto Payment Methods: Bitcoin, Ethereum, and Litecoin.
The price for 1 Million OSRS Gold is $0.42.
One Million RuneScape 3 Gold Costs $0.05.
Claim RuneScapeGoldMarkt Free Bonus
Go to RuneScapeGoldMarkt using our link.
Make a purchase.
Enjoy your free bonus!
RuneScapeGoldMarkt Summary
| Our rating | 3.75 |
| --- | --- |
| Usability | Standard |
| Languages | 1 |
| OSRS price | $0.42/M |
| RS3 price | $0.05/M |
| Official website | RuneScapeGoldMarkt.com |
RuneScapeGoldMarkt Alternatives
Frequently Asked Questions
✔️What is RuneScapeGoldMarkt?
RuneScapeGoldMarkt is a marketplace where you can buy gold for Old School RuneScape and RuneScape 3. The site offers regular cash options like Visa and Crypto options like Bitcoin.
✔️Is RuneScapeGoldMarkt Legit?
RuneScapeGoldMarkt is a reputable marketplace. We bought some gold from them and experienced no issues. We can confirm that it is legit.
✔️Is RuneScapeGoldMarkt Trustworthy?
RuneScapeGoldMarkt is 100% trustworthy. We have our experience and multiple user reviews praising its service to back up that claim.
✔️Did Anyone at RuneScapeGoldMarkt Get Scammed?
Given the large number of positive reviews for RuneScapeGoldMarkt, there isn't any evidence suggesting that the site scammed anyone. We looked at hundreds of user reviews to verify that.