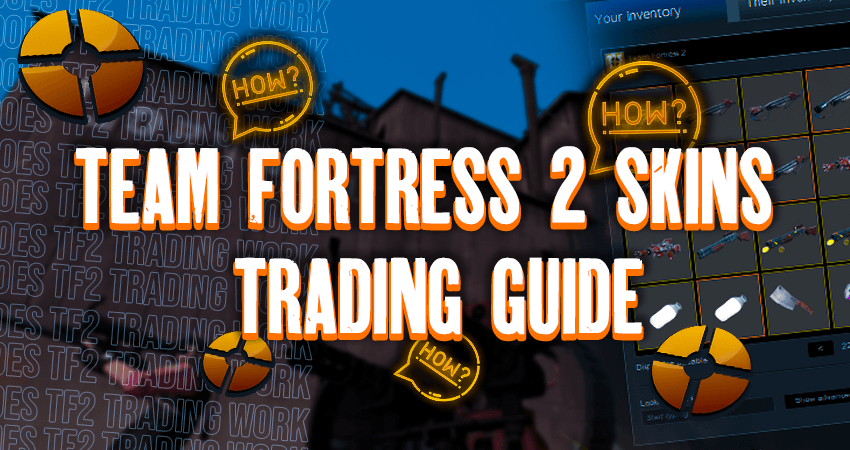 Are you tired of your old TF2 skins? Why not trade them for some snazzy new ones? But how can you do that exactly? If Team Fortress 2 skins trading is something that interests you, you have landed in the right place. Here is a complete guide on Team Fortress 2 skins trading. This article was updated in 2023.
Key Takeaways
Team Fortress 2 skins trading is a straightforward process facilitated through Steam's built-in trade window. Players can exchange their unwanted skins for desired ones, enhancing their in-game experience.
The article provides a comprehensive step-by-step guide for beginners, making it easy for players to start trading. From picking skins to completing the trade, the guide covers each aspect in detail.
It's possible to trade with players who aren't on your Steam friends list by using a trade URL. This expands your trading possibilities and allows you to connect with a broader community of traders.
Trading carries risks, primarily the potential for scams. The article highlights the importance of caution, recommends not trusting random trade offers, and advises verifying skin prices independently to avoid falling victim to scammers.
To find trading partners, Team Fortress 2 skin trading websites can be helpful. The article mentions the existence of scam sites and encourages readers to choose reputable platforms from a provided list to ensure secure and fair trading experiences.
How Team Fortress 2 Skins Trading Works?
The concept of Team Fortress 2 skins trading is quite simple. You have some TF2 skins that another person wants, and you don't need them. The other person has some you like, and they don't need them. You both trade those skins and receive the skins you wanted
But how exactly do the skins get transferred? Steam has a built-in system for precisely that, called the Steam trade window. In this window, users can select particular skins they want to give away from their inventory and the ones they would like in return from the other person's inventory. Once the trade gets complete, the skins automatically get transferred.
Team Fortress 2 Skins Trading - Step-by-Step Guide
To help you get into Team Fortress 2 skins trading, we have broken down the process into a step-by-step guide. Follow these steps, and you'll be trading in no time.
Step 1: Pick the skins you want to give in the trade and those you want in return. At this point, you only need a rough idea for reference.
Step 2: Find someone who likes the trade. You will likely have to modify your original offer, adding or removing a few skins.
Step 3: After finding someone to trade with, launch Steam and click on your username in the upper left corner of the Steam window.
Step 4: As you click on your username, your Steam profile will open. From the right-side section, click the "Inventory" option.
Step 5: Once at your Steam inventory, click the "Trade Offers" button and a new Steam page with your trade offers will open.
Step 6: After that, click the "New Trade Offer..." button, and a new window will open, showing all your Steam friends.
Step 7: From the list of all your Steam friends, find the name of the one you want to trade with and click on it.
Step 8: After that, the trade window will open. The trade window will show an option to select your and one for your friend's inventory.
Step 9: Click the option for your inventory and select the skins you want to give. Click your friend's inventory and pick the skins you want.
Step 10: Click the "Make Offer" button, and your friend will receive a trade offer. The skins will get transferred once your friend accepts the trade offer.
Trading With People Who Aren't On Your Steam Friends List
The only way you can trade with other Steam users is through the Steam trade window. Since users who aren't in your Steam friends list won't appear in the window from Step 6 of the guide above, you can't use that method to open the Steam trade window with them. For that, you need a trade URL.
If you have someone's trade URL and open it on Steam or any other browser, you'll get a Steam trade window with that person. You'll see the same options for your inventory and the other person's inventory from Step 8, regardless of whether the other person is in your Steam friends list or not.
Once you are at the Steam trade window, add the skins you want to give away and the ones you want from the other person's inventory and send the trade offer. Once the other person receives it, they will have to accept it, and the skins will get transferred.
If you want the other person to send you the trade offer and select the skins themselves, you can send them your trade URL. To find your trade URL, go through Steps 1 to 5, click the "Who can send me Trade Offers?" option, and the trade URL will appear in the "Third-Party Sites" section.
Team Fortress 2 Skins Trading Sites
Team Fortress 2 skins trading websites are online platforms where you can find potential traders. Since finding someone to trade Team Fortress 2 skins with only from your Steam friends list can be difficult, TF2 trading websites have become quite popular within the TF2 gaming community.
At a TF2 trading site, you'll find multiple trade offers listed by other users. You can pick whichever offer you want and continue with the trade. You can even list your trade offer and wait for someone to accept it. Bellow, you can find a few leading Team Fortress 2 skin trading platforms.
Avoiding Team Fortress 2 Skins Trading Scams
The main scam that happens while trading Team Fortress 2 skins is where the scammer tricks you into giving your valuable skin in exchange for one that isn't nearly as valuable. Scammers will even impersonate reputable traders or popular content creators to get you to trust them.
Here are some rules to follow while trading Team Fortress 2 skins. Firstly, do not trust random trade offers. Popular content creators have trade offers lined up for them and won't send a trade offer specifically to you without knowing who you are. Secondly, don't take anyone's word for it. Confirm the price of skins involved in the trade yourself.
Another risk associated with Team Fortress 2 skins trading is scam sites. Surprisingly, multiple players have lost their TF2 skins to these scam sites. The worst part is that these websites appear legit.
To help you avoid all types of scam platforms, we reviewed multiple TF2 trading sites and hand-picked the best ones. Choose the best TF2 skins trading website from our list, and you won't ever have to worry about getting scammed.
Conclusion
TF2 skins trading is like a win-win situation for both parties involved. However, as we have mentioned, there are some risks you should be careful of. If you follow our instructions on Team Fortress 2 skins trading and the strategies for avoiding scams, you will have nothing to worry about.
What are Team Fortress 2 skins, and how do they affect gameplay?
Team Fortress 2 skins are cosmetic items that change the appearance of in-game weapons. They have no impact on gameplay mechanics or performance. Skins are purely aesthetic and allow players to personalize their weapons with unique designs, patterns, and colors.
How can I obtain Team Fortress 2 skins for trading?
There are several ways to acquire TF2 skins for trading. Players can obtain them through random drops while playing the game, purchasing them from the in-game Mann Co. Store, trade with other players, or unbox them from cosmetic cases using keys. Skins can also be obtained by participating in community events or trading with third-party websites.
What is the importance of rarity and wear condition when trading TF2 skins?
Rarity and wear condition significantly impact the value of Team Fortress 2 skins in the trading market. Skins come in different rarity levels, such as Common, Uncommon, Rare, and Exotic. Additionally, the wear condition denotes the level of wear on the skin, ranging from Factory New to Battle Scarred. Rarer skins in better condition generally have a higher trading value.
What is the Steam Community Market, and how does it relate to skin trading?
The Steam Community Market is an official platform by Valve where players can buy, sell, and trade Team Fortress 2 skins and other in-game items using Steam Wallet funds. It serves as a regulated marketplace with fixed prices set by the community and Valve. When trading on the Steam Community Market, Valve takes a small percentage of the transaction as a fee.
What should I keep in mind when engaging in TF2 skin trading?
When trading TF2 skins, it's crucial to be cautious and vigilant to avoid scams and fraud. Always double-check the items involved in the trade and use the official trading systems like the Steam Trade window. Be wary of offers that seem too good to be true and avoid sharing personal information or login credentials. Additionally, researching current market prices and staying up-to-date with the trading community can help you make fair trades and get the skins you desire.