Mirage is probably the most popular map in CS2's competitive scene, with almost every Counter-Strike tournament having a match or two played on it. If you just started playing on Mirage, you are in the right place. To help you get up to speed, here is a complete guide on CS2 Mirage callouts.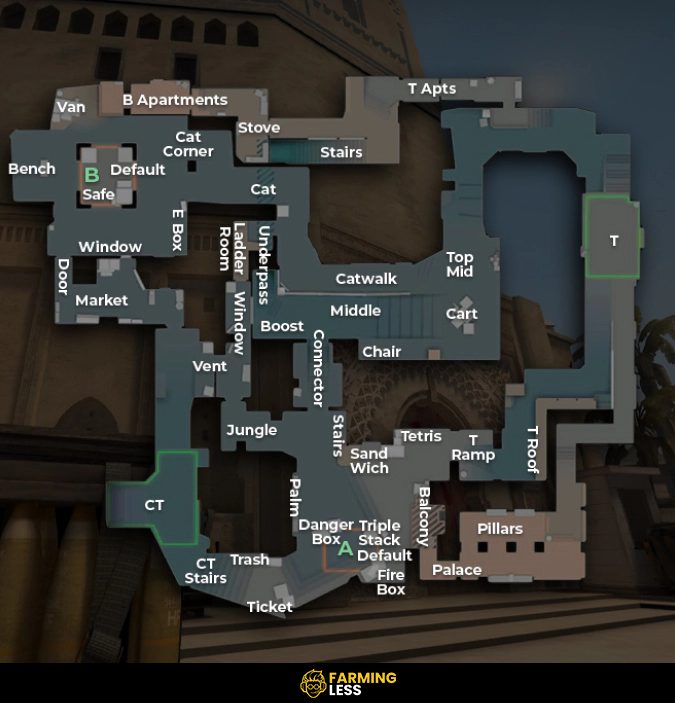 CT Spawn: The location where the Counter-Terrorists spawn every round.
CT/CT Stairs: Stairs directly toward the right of CT Spawn leading toward A Site.
Trash/Trash Can: A trash bin to the left above CT Stairs.
Ticket Booth/Ticket: Grey ticket booth opposite to Trash Can. (Popular AWPer spot)
Palm/Bench: Two benches nearest to CT Stairs in A Site with palm trees behind them.
Triple Box/Triple: Three boxes in the plant area on A Site nearest to T Spawn.
Firebox: Boxes with fire symbols in the A Site plant area.
Default: Plant area between Tripple Box at A Site.
Vent: A hole near CT Spawn players can crouch through to Mid.
Sniper's Nest: Large window toward left after crossing Vent. (Popular AWPer spot)
Jungle: Area toward the right after crossing Vent, leading to A Site.
Stairs: Set of stairs directly in front of Jungle.
Connector: Short tunnel connecting Mid to Jungle and Stairs, leading to A Site.
Mid: The middle/center section of the map, with a direct view from Sniper's Nest.
Boost: Ledges players can use to boost a teammate into Sniper's Nest from Mid.
Ladder Room/Ladder: Small room leading to Sniper's Nest from B Short.
Market: A shop connecting B Site players can reach directly from CT Spwan.
Window: Window with breakable shutters in Market with a direct view of B Site.
Door: Doorway connecting Market to B Site.
Empty: B Site pillar closest to Market's Door.
Bench: A bench in front of a small brick wall in B Site.
Van/Car: A white van on B Site players can use to enter B Apps from B Site.
B Site: Area where Terrorists must plant the bomb.
E Box: A corner in B Site toward the right of Window for players in Market.
T Spawn: Location where Terrorists spawn each round.
Side Alley: Area connecting Mid, T Spawn, and House.
House: Building leading to B Site from Side Alley.
TV: TV in House.
Back Alley: Area connecting Underpass, House, and B Appartments, leading to B Site.
B Apartments/B Apps: The final building players must cross to reach B Site.
B Plat: Elevated platform outside B Apps connecting B Site.
Top Mid: Highest area of Mid, Nearest to T Spawn.
Mid Boxes: Set of boxes in top Mid.
Chair/Delpan: A small chair in a corner of Mid. It's a common hiding spot.
Catwalk: Elevated passage alongside mid used to reach B Site.
B Short: Area over the Underpass, leading to B Site from Catwalk.
Arches: Area between B Short and B Site.
Underpass: Underground passage connecting the bottom portion of Mid to Back Alley.
Palace: The building connected to the furthest of the two paths to A Site from T Spawn.
Pillars: Pillars inside the Palace. Often used as cover in gunfights.
Balcony: Balcony with wooden flooring right outside Palace.
Shadows: Small area directly under Balcony.
T Roof: Elevated path along Palace's outside wall and the second path to A Site.
A Ramp: Stairs leading up to A Site from T Spawn.
Tetris: Stack of boxes right in front of A Ramp.
Sandwich: Small area between Tetris and Stairs.
A Site: An area where Terrorists must plant the bomb.
Communicating is one of the best ways to drastically improve your team's performance in CS2. Go through the CS2 Mirage callout list above so you know what to tell your teammates when you have information about enemy locations while playing on Mirage. Check out our CS2 communication guide for even more improvement in your communication.