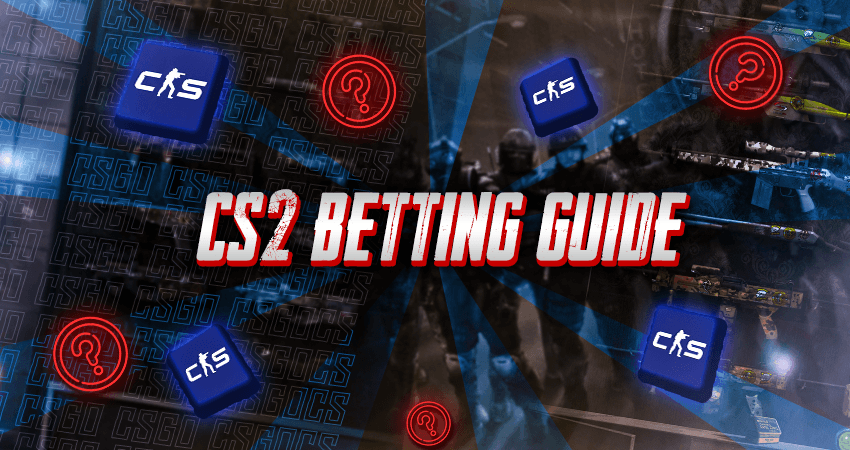 So you like the excitement of watching CS2 esports matches? What if you could up the excitement 10 times? One way to do that is by wagering on your favorite teams and players and then watching them hash it out in esports matches. If that's something that interests you, you are in the right place. Here is a complete guide on CS2 betting. This article was updated in 2023.
Key Takeaways
CS2 betting involves understanding odds, which represent both the probability of an outcome and potential returns. Decimal, fractional, and American odds are common formats, and bettors should learn how to interpret them before placing bets.
CS2 betting offers a wide range of betting markets beyond just predicting the match winner. These include bets on the first kill, correct score, total rounds, and more. Exploring different markets can add excitement to your betting experience.
Before venturing into CS2 betting, it's essential to choose a reputable and trustworthy betting site. Look for platforms with proper licensing, a positive reputation, and user-friendly features. Additionally, always gamble responsibly and set limits to ensure you enjoy the experience without risking too much.
The article provides a clear step-by-step guide for newcomers to CS2 betting. From selecting a legitimate betting site to placing bets and withdrawing winnings, following these steps can help beginners get started confidently.
CS2 betting adds an extra layer of excitement to watching esports matches. Betting on your favorite team or player can enhance your engagement and enjoyment of CS2 tournaments, but it's crucial to keep the fun in mind and bet responsibly.
CS2 Betting Explained
CS2 betting is a type of esports betting where people place bets on the outcomes of CS2 matches. For example, let's say a CS2 esports match is going on between NaVi and Faze Clan. Based on your experience, you can say with confidence that NaVi will win, so you place a $10 bet on it.
You might know that bookmakers or bookies are needed to make bets like this. For CS2 betting, several online platforms operate as bookmakers. These CS2 betting sites offer betting markets and odds for CS2 esports events. Don't worry. The terms "betting markets" and "odds" are explained next.
CS2 Betting Odds & What They Represent
People don't just place bets willy-nilly. Betting sites provide odds, which is a number that represents the probability of an outcome happening, and it also tells the precise potential return that bettors will get. It's crucial that you carefully examine the odds before placing a bet. For that, you'll need to learn how to read odds.
Decimal Odds
Decimal odds are easiest to understand. In the decimal system, odds get represented as a number with a decimal, like 1.66 or 3.0. For the potential return, multiply the decimal odds by the wagering amount. For example, betting $150 on an outcome with odds of 1.66 will have a return of $249.
As mentioned, odds also tell you the probability of an event occurring. A simple rule of thumb you can keep in mind is that the higher the potential return, the lower the chances of that outcome happening.
Fractional Odds
The fractional system uses a fraction to represent the odds, like 5/3 or 3/1, where 5/3 is pronounced "five to three" and 3/1 is "three to one." For an outcome with odds 5/3, the bettor's potential return is $5 if they bet $3. In the same way, the return becomes $25 if the wager is $15.
Similar to the decimal format, the higher the return, the lower the probability of the outcome occurring. For example, if the odds of a particular team winning a match are 3/1, and the odds of losing are 5/3, the team will likely lose since anyone who bets on them winning will triple their wager.
American Odds
You will rarely see a betting site offering American odds. But it's worth learning how to read them. American odds get represented by a number with either a positive or a negative sign. Odds of +150 tell that your potential return is $150 for betting $100, and -150 says that you'll have to bet $150 for a return of $100.
CS2 Betting Markets
In CS2 betting, you aren't limited to betting on the match winner. Multiple bets are available, like betting on the first kill or the number of rounds at the end of the match. All these types are called betting markets. Here are the most common betting markets you'll see in CS2 betting.
Match Winner/Moneyline: Team or player that will win the match.
Tournament Winner/Outright: Team or player who will win the entire tournament.
First Blood/First Kill: Team or player to get the first kill.
Correct Score: The final score at the end of a match, like 16 - 9.
Total Rounds/Maps: The number of rounds or maps played.
Over/Under: Whether a specific statistic, like total kills, is above or below a set value.
Most Kills/Assists: The team or player getting the most kills or assists.
Special Bets/Props: Specific occurrences, like the team that gets the first knife kill.
Getting into CS2 Betting - Step-by-Step Guide
If you want to get into CS2 betting but are confused about how it works, we've got you covered. Here is a step-by-step guide on how you can make your first CS2 bet:
Step 1: Find a CS2 betting site that is legit and caters to all your needs. You can find the best CS2 betting sites here.
Step 2: Create an account and sign in, which may require information like email, name, and more.
Step 3: Select one of the deposit options available and transfer the amount you want to bet with.
Step 4: Choose the CS2 event you want to bet on and decide on a betting market after looking at the odds.
Step 5: After deciding on the betting market, set the amount you want to wager and place the bet.
Step 6: Once you've placed the bet, wait for the CS2 event to end to see whether or not you've won.
Step 7: If you've won, congratulations. You can go to the withdrawal section and withdraw all your winnings.
What to Consider When Choosing a CS2 Betting Site?
While selecting a CS2 betting site, you'll have to pay special attention. If you don't do that, you might get scammed.
The main thing you should focus on while picking a CS2 betting site is legitimacy and trustworthiness. Platforms with a good reputation, licensing from top regulatory authorities, and generally positive reviews can be marked as legit and trustworthy.
After that, look at the betting market verity, the odds, and the usability. Finally, you can look at subjective factors, like deposit/withdrawal options and website design/theme.
With that said, finding all that information about a website can be tedious. Fortunately, we've already done that for you.  To help you with that, bellow we have added a few leading CS2 betting platforms.
Conclusion
CS2 betting offers an exciting way to engage with the world of esports. As you bet on your favorite team and watch them battle against others, you get an unmatched level of thrill. With that said, remember to choose a reputable CS2 betting site and gamble responsibly.
Is CS2 betting legal and safe?
CS2 betting is legal and safe in many jurisdictions, but it's essential to check your local laws regarding online gambling and esports betting. As for safety, choosing reputable and licensed CS2 betting sites can minimize risks and ensure a secure betting experience.
Can I bet on CS2 matches using real money only?
Yes, most CS2 betting sites accept real money wagers. However, some platforms might offer virtual currency options for practice or fun betting. When you're ready to bet with real money, ensure you use secure payment methods to deposit and withdraw funds.
How can I improve my chances of winning in CS2 betting?
Winning in CS2 betting involves a mix of knowledge, research, and strategic thinking. Familiarize yourself with the teams, players, and their performance history. Stay updated with the latest news, roster changes, and match statistics. Implementing sound betting strategies and managing your bankroll responsibly can also improve your chances of success.
Can I bet on CS2 matches from my mobile device?
Yes, many CS2 betting sites offer mobile-friendly platforms or dedicated apps, allowing you to place bets conveniently from your smartphone or tablet. Check if the betting site you choose has a mobile option and supports your device's operating system.
Are there any bonuses or promotions for CS2 betting?
Yes, most CS2 betting sites offer various bonuses and promotions to attract new users and reward existing ones. These can include welcome bonuses, free bets, cashback offers, and special promotions tied to specific CS2 tournaments or events. Always read the terms and conditions of the bonuses to understand any wagering requirements or restrictions.