Be it getting a new skin to look super cool the next time you play CSGO or selling some of your skins you no longer want, Buff.Market caters to all those needs. But if you're still not sure if it's the right platform for you, check out our Buff.Market review.

This Buff.Market review was updated on November 2022.



Here is a list of some of the best and worst of what Buff.Market has to offer:
Pros
Buff.Market also has a mobile app that users can download and use the Buff.Market marketplace.
Buyers have the option to negotiate the price of in-game items listed by sellers at Buff.Market.
The Buff.Market website uses the SSL encryption protocol to keep the data of all users completely safe.
Buff.Market uses P2P for in-game item transactions, which makes the process quite fast.
Cons
The customer support at Buff.Market is not as effective as compared to other platforms.
There are not a lot of deposit options, with the only ones being Visa and MasterCard.
There are not a lot of withdrawal options.
About Buff.Market
Buff.Market is one of the newer online marketplaces primarily for CSGO skins, but in-game items for Badlanders are also available. It launched only a year ago, in 2021. The Buff.Market platform uses the P2P trade system for all the skin and in-game item transactions that take place on its website.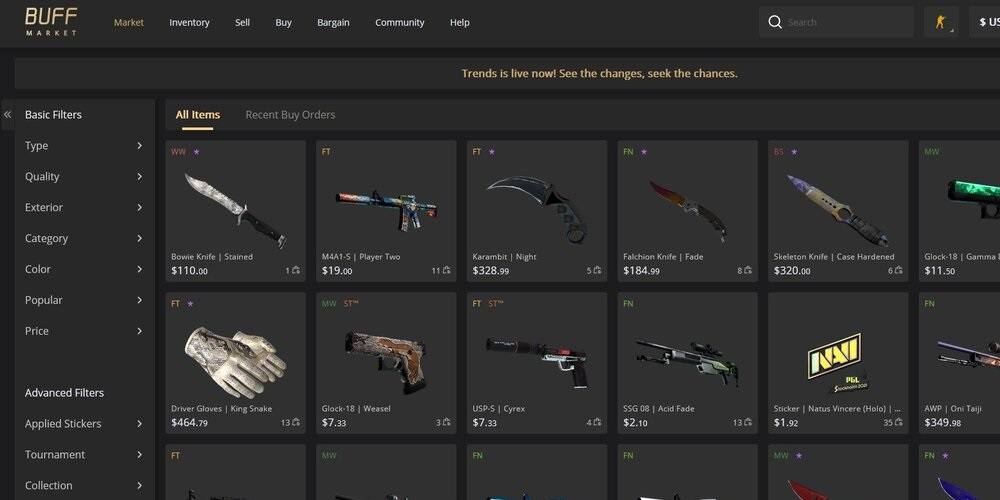 Our Buff.Market Review
To get a better idea about how the Buff.Market platform is like, we tried it out for ourselves for several hours. The one thing that we really like about Buff.Market is that it uses the P2P trading method. In other words, the in-game items listed on the site stay in the inventory of the sellers, and as someone purchases them, they get transferred directly to the buyers' inventory. It allows sellers to list their in-game items on multiple platforms.
Along with that, there are tons of other great features that we like about Buff.Market. Firstly, the website for the Buff.Market platform has a great design and layout. We found that the website was also easy to use and faced zero delays while switching from one page to the other. However, the platform does feel a bit lacking in the deposit and withdrawal method department as there aren't many options available. But the popular options are available, so that is not much of a problem.
In terms of prices, there is a wide variety available. You also have the option to negotiate with the sellers for a better price. Concluding this Buff.Market review, for people that want to buy or sell CSGO skins, it is certainly worth checking out.
Buff.Market Key Features
Games/Activities: P2P Market.
Buff.Market has an excellent rating of 4.3 stars on Trustpilot.
Deposit Methods: Visa MasterCard.
Other Deposit Methods: CSGO P2P and Badlanders P2P.
Withdrawal Methods: CSGO P2P, Badlanders P2P, Payoneer, Airwallex, Gift Card, and Phone Recharge Card.
Claim Buff.Market Free Bonus
Go to Buff.Market using our link.
Register an account.
Enjoy your free bonus!
Buff.Market Alternatives
Frequently Asked Questions
✔️What is Buff.Market?
Buff.Market is a P2P marketplace that launched in 2021. While it is primarily for CSGO in-game items, in-game items for Badlanders can also be sold or purchased.
✔️Is Buff.Market Legit?
The Buff.Market platform has acquired all the necessary licensing and registration required, which makes it one hundred percent legitimate.
✔️Is Buff.Market Trustworthy?
The total value of items listed for sale at Buff.Market sometimes reaches over a million dollars. This combined with the tons of positive reviews makes Buff.Market completely trustworthy.
✔️Did Anyone at Buff.Market Get Scammed?
While it hasn't been long since the Buff.Market platform started its operation, there has been a total of zero credible scam accusations against Buff.Market.