Skin trading allows users to get new and exciting skins for their old and boring skins. However, as a beginner, it can be tricky to figure out what platform to use for skin trading. We aim to make this process a little easier, and today, we look at CS.Trade. Keep reading to learn more about all the features of the platform.

This CS.Trade review was updated in 2023.



Here is a list of some of the best and worst of what CS.Trade has to offer:
Pros
The site offers a cashback feature. With this feature, users get a chance to win cashback on each trade.
CS.Trade supports multiple games, including Dota 2, TeamFortress 2, Rust, and CSGO.
The platform uses a trading bot, which helps in keeping the trades quick.
CS.Trade has a massive inventory, with a ton of variety for pricing.
The platform offers multiple payment options.
Besides English, users can change the language of the site, choosing from six different language options.
Cons
Prices don't always match the best Steam listings.
The customer support network is lacking.
About CS.Trade
CS.Trade is a skin trading website. The site offers a trading service for several games, including CSGO, Rust, Dota 2, and Team Fortress 2. The platform employs bots for the trading process, which makes trading efficient and quick.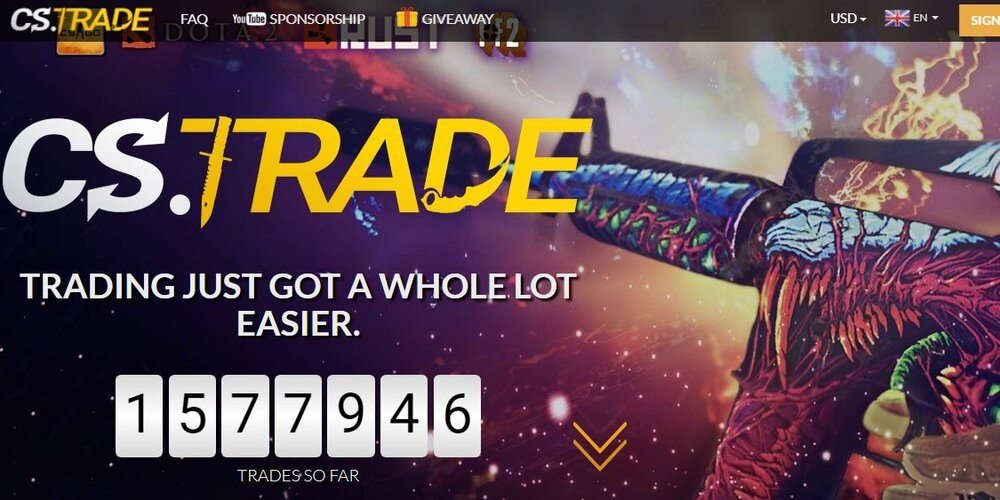 Our CS.Trade Review
CS.Trade has done several things right that help it stand out. Firstly, we were immediately blown away by the superb design of the site. The site has great accessibility features, language options, and a slick UI that allows easy searching and navigation. The website is also one of the most aesthetically pleasing ones out there.
Then, as for the items on offer, they are priced fairly compared to other platforms. The site offers a low 5% commission fee, so you don't have to deal with a massive bill at the checkout. Plus, the service has a large inventory of great premium CSGO items.
With that said, the platform is not free of issues, and there is room for improvement. For example, the site does not have a live chat support feature. Instead, the site uses an email system for customer support. Expect to wait 24 hours or over if you want a response. However, the website does a lot to soften the blow with great giveaway incentives.
In conclusion, CS.Trade is an OK option for anyone who wants to trade their in-game items for games like CSGO or Dota 2. However, we feel there are better options.
CS.Trade Key Features
One of the most appealing website designs you will come across.
Well over one million completed trades.
Trading bots allow for swift, easy trading.
Competitive 5% commission fee.
The site offers items for a variety of games.
Giveaway incentives are available for paying customers.
Great UI and efficient search features.
Competitive prices.
Claim CS.Trade Free Bonus
Go to CS.Trade using our link.
Register an account.
Enjoy your free bonus!
CS.Trade Summary
| Our rating | 3.5 |
| --- | --- |
| Usability | Standard |
| Languages | 10 |
| Year Established | 2017 |
| Official website | CS.Trade |
CS.Trade Alternatives
Frequently Asked Questions
✔️What is CS.Trade?
CS.Trade is a trading website. The platform offers trading services for games like CSGO, Dota 2, Rust, and Team Fortress 2.
✔️Is CS.Trade Legit?
Yes, CS.Trade is legit. There are many positive user reviews for the site, and our experience with the platform was also great. We found no issues.
✔️Is CS.Trade Trustworthy?
We tried the service out for ourselves. Fortunately, the trading service was flawless and secure, with transparent pricing and commission structure.
✔️Did Anyone at CS.Trade Get Scammed?
We looked at hundreds of user reviews and found no credible scam accusations. The reviews we found were largely positive.