With the rise of block chain, cryptocurrency and NFT's, you will likely be at least familiar with the concept of investing in something that strictly speaking, doesn't really exist. Many casual lookers-on may believe that this is a new trend. However, for those that are interested in CSGO, TF2 or similar gaming items, you'll know fine well that there is money to be made and there has been for some time. However, it can often be a challenge to decide where to trade and make sweet, sweet cash. Well, have you considered Mannco.store?

This Mannco.store review was updated on November 2022.



Here is a list of some of the best and worst of what Mannco.store has to offer:
Pros
Simple, intuitive design
Decent inventory
Giveaways and incentives
Quick deposit and cash out
Cons
Smaller inventory and user base compared to long established sites.
Very new website
Support network is poor
Mannco.store Summary
| Overall rank | #20 out of 24 |
| --- | --- |
| Our rating | 3.0 |
| Usability | Standard |
| Languages | 6 |
| Years established | 2018 |
| Trading fee | 8% |
| Games available | Team Fortress 2, Dota 2, Rust, CSGO |
| Official website | Mannco.store |
About Mannco.store
While Mannco.store initially only supported Team Fortress 2 items, it is now an online marketplace for in-game items and skins for games, including CSGO, Rust, and Dota 2 as well. Users can choose what they want to buy from a stock of rare and desirable items that can't be found elsewhere.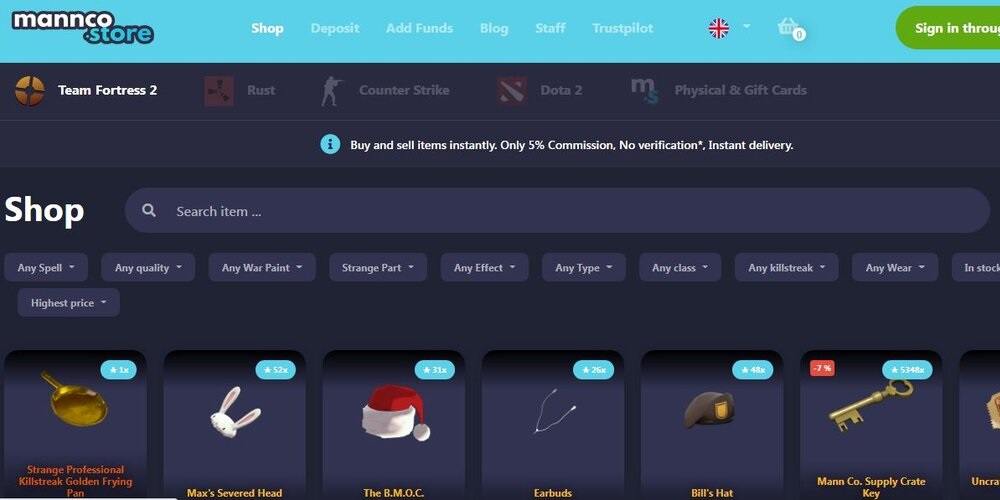 Our Mannco.store Review
In a saturated field such as in-game item marketplaces, it can be hard to truly stand out. A problem that this website seems to struggle to overcome at times. However, there is still plenty to celebrate here. Firstly, we have to commend Mannco.Store for offering a simple design that really caters for beginner traders, with a smartly designed UI. Plus, we have to commend this marketplace on offering a wide variety of items for multiple titles. Not to mention a sizable inventory of luxury items for each.
Then into the bargain, the website also offers incentives and giveaways for paying customers. Meaning that if you choose to be a user of this website, there is a chance you may get more value than you ever dreamed possible. The website also has a smooth payment process, a handful of options to do so, and when it comes to crashing out, you'll have your funds in rapid time.
The only downside to using this website is that it is a very new venture. So as a result, the user base is smaller than most, the support network is slower than most and the inventory isn't as stacked as other competitors on the market. However, that is to be expected and while we wont say that there aren't better options out there, we would say that this one is one to keep on your radar and one you should check out.
Mannco.store Key Features
Stocks TF2, CSGO, Rust and DOTA 2 items.
Has a large selection of premium items and a sizable inventory.
Website is simple in design and easy to navigate.
Incentives and giveaways on the site.
Easy deposit and quick withdrawal procedure.
Claim Mannco.store Free Bonus
Go to Mannco.store using our link.
Register an account.
Enjoy your free bonus!
Mannco.store Alternatives
Frequently Asked Questions
✔️What is Mannco.store?
This is a website that allows players to buy and sell CSGO, DOTA, RUST and TF2 in-game items.
✔️Is Mannco.store Legit?
Yes, this site is very transparent, offering its Trustpilot rating, company details and full list of staff in their website.
✔️Is Mannco.store Trustworthy?
Yes, we used the service and can confirm that this service makes good on all of its promises.
✔️Did Anyone at Mannco.store Get Scammed?
Not that we know of. Everyone that has used the site has only offered positive reviews and spoke of the up and coming nature of the site.