TF2 is an old game, and the in-game character models don't look very appealing. One way to fix that is by equipping some skins or other items. However, it can often be a challenge to decide to buy in-game items for TF2. Well, have you considered Mannco.store? If you aren't sure about using the platform, you are at the right place. Keep reading this Mannco.store review to find out if it's the right platform for you.

This Mannco.store review was updated in 2023.



Here is a list of some of the best and worst of what Mannco.store has to offer:
Pros
The website has a simple and intuitive design.
Mannco.store has a decent inventory of in-game items.
Users can change the website's display currency, choosing from 11 currency options.
On top of TF2 items, users can also buy skins/items for other games, including CSGO, Dota 2, and Rust.
The site regularly offers giveaways and other incentives.
Users can change the website's language, choosing from six language options.
Cons
The support network needs some work.
The site does not offer live chat support.
About Mannco.store
Mannco.store is an online marketplace for in-game items and skins for Team Fortress 2. The site initially only supported Team Fortress 2 items. However, users can now also buy items/skins for other games, including CSGO, Rust, and Dota 2.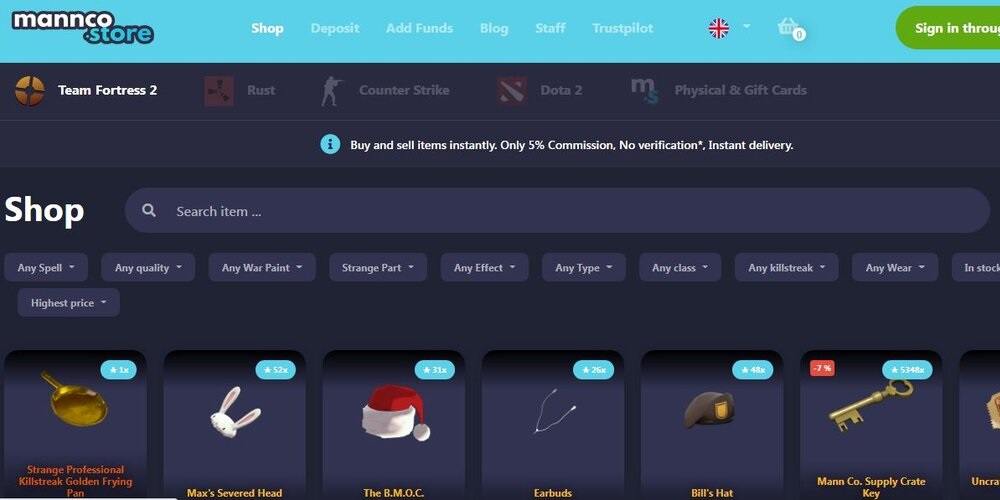 Our Mannco.store Review
We used the Mannco.store website ourselves. We were impressed by the overall design of the website. Compared to all the Team Fortress 2 marketplaces we have looked at, the Mannco.store website's design is amongst the best. The color scheme blends well with the theme of the site. The icons don't look odd. All graphical elements used on the site are of high quality.
One of the great things about Mannco.store is that it is not limited to Team Fortress 2 skins. Items and skins for other games are also offered, including CSGO, Dota 2, and Rust. The best part is that a sizable inventory of luxury items is available for each game.
Mannco.store also offers incentives and giveaways for paying customers. Meaning that if you choose to be a user of this website, there is a chance you may get exciting rewards. The website also has a smooth payment process. Speaking of payment, there are several deposit options available at the site.
We did find several downsides. Mainly, the support network needs some work. There is no live chat support available. The support system available is slow and may keep you waiting for a long time before you get a response. In conclusion, Mannco.store is worth a try. However, we feel there are better options with better services.
Mannco.store Key Features
Stocks TF2, CSGO, Rust, and DOTA 2 items.
Has a large selection of premium items and a sizable inventory.
The website has a simple design and is easy to navigate.
Incentives and giveaways are offered on the site.
Easy deposit withdrawal procedure.
Claim Mannco.store Free Bonus
Go to Mannco.store using our link.
Register an account.
Enjoy your free bonus!
Mannco.store Summary
| Our rating | 3.0 |
| --- | --- |
| Usability | Standard |
| Languages | 6 |
| Years established | 2018 |
| Official website | Mannco.store |
Mannco.store Alternatives
Frequently Asked Questions
✔️What is Mannco.store?
Mannco.store is a third-party marketplace for in-game items and skins, where users can buy items for CSGO, Dota 2, Team Fortress 2, and Rust.
✔️Is Mannco.store Legit?
Mannco.store has a positive rating on Trustpilot, with multiple great reviews. We used the site as well and can confirm that it is legit.
✔️Is Mannco.store Trustworthy?
We used the service, had no issues, and found no red flags. We can confirm that Mannco.store is a trustworthy platform.
✔️Did Anyone at Mannco.store Get Scammed?
Not that we know of. Everyone that has used Mannco.store has only offered positive reviews. We looked at hundreds of user reviews and weren't able to find a single legit scam accusation.