There are hundreds of websites that sell TF2 items, and as a result, it can be a challenging task trying to find one that lives up to your expectations. Marketplace.tf might be a decent option but is it worth considering? Keep reading this Marketplace.tf review to find out whether it is a platform worth your time.

This Marketplace.tf review was updated in 2023.



Here is a list of some of the best and worst of what Marketplace.tf has to offer:
Pros
Overall, the pricing of items at Marketplace.tf is fair compared to the listings you see on Steam.
The platform regularly offers deals, giveaways, and other incentives.
The site offers items for Dota 2 as well.
Marketplace.tf has an extensive library of in-game items for Dota 2 and Team Fortress 2.
The platform has a decent mix of high-value items and budget items.
Cons
The site does not have a live chat support feature.
There are no language options for the Marketplace.tf website other than English.
About Marketplace.tf
Marketplace.tf is an online platform where users can buy in-game items using real cash. Currently, items for only two games are supported at the site, which includes Team Fortress 2 and Dota 2.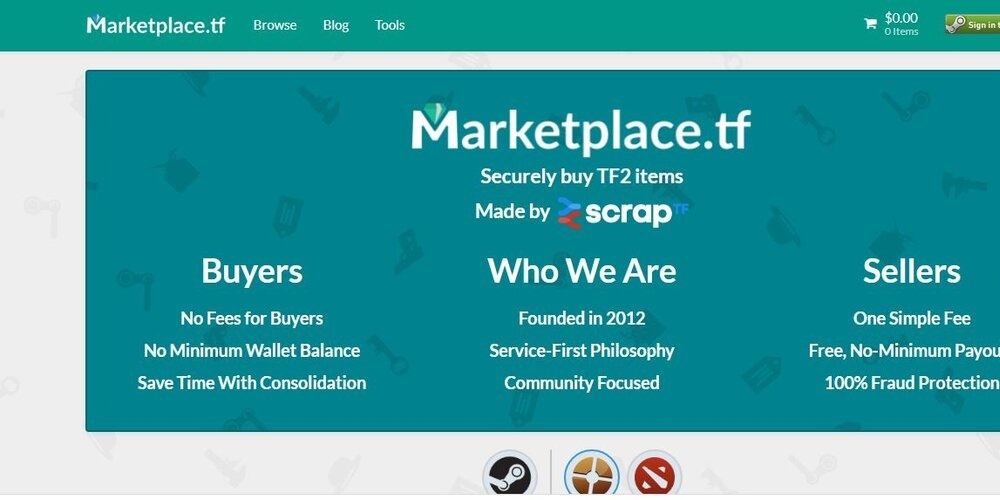 Our Marketplace.tf Review
For anyone who wants's to buy in-game items for Team Fortress 2, we found that Marketplace.tf is a decent option. The platform has a nice selection of in-game items, with a wide variety in terms of pricing, which makes it an attractive place for gamers on a budget and gamers who want nothing but the best. And you know what the best part is? You can buy stuff for Dota 2 as well.
As for the pricing of items available at Marketplace.tf, it is decent compared to Steam listings. You can certainly find great value on this platform. We were able to find some great deals ourselves. On top of that, the site offers regular giveaways and incentives.
Unfortunately, there are several downsides to using Marketplace.tf. Firstly, it looks a bit unpolished. The website looks odd, especially considering the font style, sizes, and color scheme. Also, the site does not offer a live chat support feature.
Concluding this Marketplace.tf review, it does have all the essential features anyone would want from a TF2 skin marketplace. However, we feel there are better options, especially if you are more interested in buying items for Dota 2.
Marketplace.tf Key Features
A huge inventory of TF2 items.
No fees for buyers.
One small fee for sellers.
100% fraud protection.
A long-serving website (2012).
Deals, savings, giveaways, and other incentives.
Community aspects.
Clean and pretty design.
Claim Marketplace.tf Free Bonus
Go to Marketplace.tf using our link.
Register an account.
Enjoy your free bonus!
Marketplace.tf Summary
| Our rating | 3.0 |
| --- | --- |
| Usability | Standard |
| Languages | 1 |
| Years established | 2012 |
| Trading fee | 8% |
| Games available | Team Fortress 2, Dota 2 |
| Official website | Marketplace.tf |
Marketplace.tf Alternatives
Frequently Asked Questions
✔️What is Marketplace.tf?
Marketplace.tf is an online platform where you can buy in-game items. The games supported at the site include Dota 2 and Team Fortress 2.
✔️Is Marketplace.tf Legit?
With most user reviews praising its service, Marketplace.tf has a positive reputation within the TF2 trading community. We tried the site as well and found no issues. We can conclude that it is a legitimate service.
✔️Is Marketplace.tf Trustworthy?
Yes, we used the service, and everything worked as it should. We can confirm that Marketplace.tf is a trustworthy platform.
✔️Did Anyone at Marketplace.tf Get Scammed?
We looked at hundreds of reviews and found nothing but positive comments. We did not find a single scam accusation against Marketplace.tf.