Playing gambling games is super exciting. However, not everyone wants to use cash to play them. Fortunately for Rust players, there are platforms like RustBet where you can play gambling games using your old Rust skins that you no longer want. But is RustBet a platform worth considering? To help you figure that out, we tested their services and reviewed them. Keep reading to learn more about all the features the site offers.

This RustBet review was updated in 2023.



Here is a list of some of the best and worst of what RustBet has to offer:
Pros
The signup process at the RustBet website is fast, and it takes only two clicks to sign up with Steam.
The site offers free cases and other free rewards.
A live chat feature is available for players to chat with each other.
A separate Russian chat room is available for players who wish to chat in the Russian language.
Cons
The website's overall design is not the best compared to other Rust skin gambling platforms.
While the options available are some of the most popular ones, there aren't a lot of gambling games.
About RustBet
RustBet is an online Rust skin gambling platform where users can use their Rust skins to play gambling games. It is one of the more recent platforms, launching in 2022. Only three games are available at RustBet, including Coinflip, Upgrader, and Jackpot.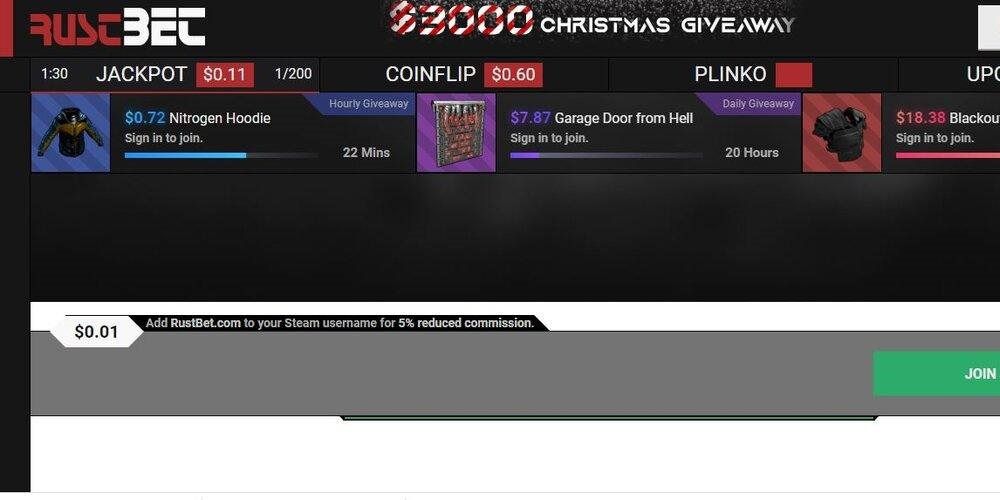 Our RustBet Review
RustBet is one of the more basic online platforms for Rust skin gambling and takes a bare-bones approach. Only four games are available at the site.
That may be a downside for some people. However, for many people, especially beginners, it makes choosing which one to play a lot easier. On top of that, the selection of gambling games includes only popular options like Jackpot, Coinflip, and Upgrader, which are enough for most Rust players.
We tried the site ourselves and had a pleasant experience. The site did not feel laggy. One of the best things about RustBet is that it offers free cases and other rewards. However, there are several issues with the site. Firstly, the font sizing feels odd. The layout also feels odd, with most icons feeling out of place.
To conclude this RustBet review, it is a decent platform for beginners who don't want to deal with a ton of options. However, we feel there are better options that provide a better service.
RustBet Key Features
Games available at RustBet include Coinflip, Upgrader, and Jackpot.
Several positive reviews for RustBet can be found on the Internet.
Users can make deposits with their Rust skins.
Users can make withdrawals through Rust skins.
Claim RustBet Free Bonus
Go to RustBet using our link.
Register an account.
Enjoy your free bonus!
RustBet Summary
| Our rating | 3.8 |
| --- | --- |
| Usability | Standard |
| Languages | 2 |
| Year established | 2020 |
| Official website | RustBet.com |
RustBet Alternatives
Frequently Asked Questions
✔️What is RustBet?
RustBet is an online skin gambling platform for Rust Skins. Jackpot, Coinflip, and Upgrader are the only three gambling activities available at the site.
✔️Is RustBet Legit?
We used the site and experienced quick transactions and excellent service. We can confirm that the RustBet platform is legitimate.
✔️Is RustBet Trustworthy?
According to our experience, we found no red flags suggesting that the site is involved in any illicit activities. We can conclude that the RustBet platform is one hundred percent trustworthy.
✔️Did Anyone at RustBet Get Scammed?
From the hundreds of user reviews we looked at, there have been zero scam accusations against the RustBet platform.