Valve are famous for producing several different game franchises. Games like CSGO, DOTA, L4D, Portal, Half Life and of course, Team Fortress II. TF2 is one of the longest-running and most successful FPS franchises on the market and, alongside its incredible list of accolades, it also serves as an excellent entrepreneurial opportunity with a huge in-game skin market. However, this poses a problem, where do you trade your skins? Well, we want to pose an option for you. How about Scrap.tf?

This Scrap.tf review was updated on November 2022.



Here is a list of some of the best and worst of what Scrap.tf has to offer:
Pros
Very pretty website, with clean UI
A large user base despite website being quite new
Community live chat
Great value for scrap skins
P2P and automated options
Cons
Prices are higher than some places
Website is quite new
Commission is unclear and can vary from deal to deal
Scrap.tf Summary
| Overall rank | #19 out of 24 |
| --- | --- |
| Our rating | 3.0 |
| Usability | Standard |
| Languages | 1 |
| Years established | 2012 |
| Trading fee | 8% |
| Games available | Team Fortress 2 |
| Official website | Scrap.tf |
About Scrap.tf
Scrap.tf is an online marketplace dedicated to Team Fortress 2 items. However, users can sell or buy CSGO items as well. Users can make trades using bots at the Scrap.tf platform, and the one thing that makes the platform unique is that users can also make trades with steam games.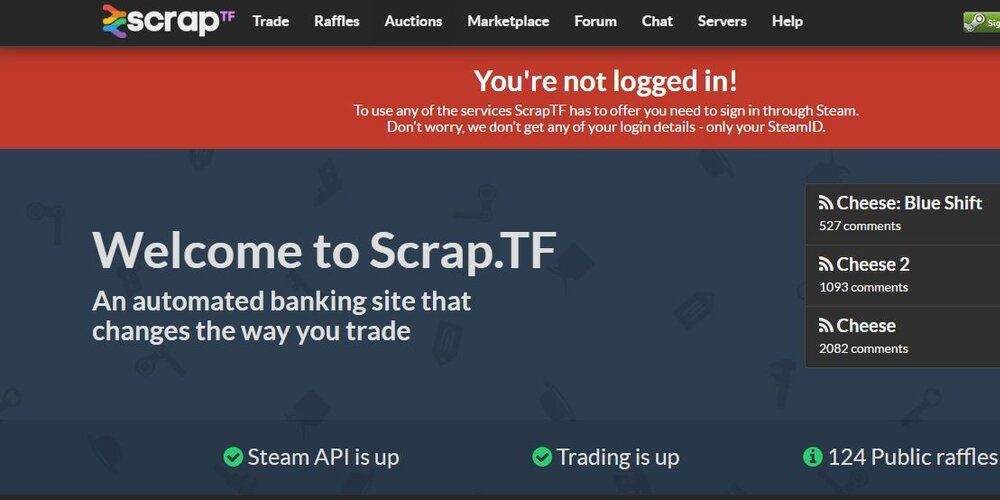 Our Scrap.tf Review
When you compare TF2 websites to the much longer established CSGO counterparts out there, it can often be an unfair comparison. However, in the case of Scrap.TF, this may be a new service but it's a quality one that you can trust. The service is a one web-site fits all where users can trade their unwanted skins via an automated service for cash. Then you can also make use of auctions and a full P2P marketplace where you can use this cash to get a bargain.
Then on top of this, the website is full of great features. You have a strong community focus that allows you to communicate with other users via live chat, you can also get involved in various giveaways and user raffles too. Plus, if anything goes wrong, the website has a responsive and helpful support network that will get to the bottom of any query fast.
The only real downside of this service is that it is a relatively new website. So for that reason, the inventory isn't as strong as some others. Plus, the prices aren't quite as competitive as some larger firms. However, there are still great deals to be had here. So do yourself a favour and head over there today.
Scrap.tf Key Features
An automated trade service for fast trading.
A clean and aesthetic design.
Raffles and other giveaway incentives.
A decent inventory.
Premium access and merchandise.
Community live chat.
P2P auctions and marketplace.
Live support network.
Claim Scrap.tf Free Bonus
Go to Scrap.tf using our link.
Register an account.
Enjoy your free bonus!
Scrap.tf Alternatives
Frequently Asked Questions
✔️What is Scrap.tf?
Scrap.TF is a Team Fortress II trading website that offers automated trades and P2P trading, along with other features and incentives.
✔️Is Scrap.tf Legit?
Yes, Scrap.TF is legit. The service is fresh off the boat so to speak. However, the service is incredibly designed considering and offers a professional service.
✔️Is Scrap.tf Trustworthy?
This website is the real deal. The website has a great reputation, great reviews, a good Trustpilot rating and is fast approaching 1,000,000 completed trades.
✔️Did Anyone at Scrap.tf Get Scammed?
Not that we can see. In their short time in the industry, they have upheld a very high standard. So no, there is very little risk of any scams happening on their watch.