Team Fortress 2 is one of the longest-running and most successful FPS games from Valve. Since it has an in-depth in-game item system, many gamers are interested in buying, selling, or trading TF2 items. However, there is a problem, where do you do all of that? Well, how about Scrap.tf? Continue reading to learn more about the site and decide whether it's the right platform for you.

This Scrap.tf review was updated in 2023.



Here is a list of some of the best and worst of what Scrap.tf has to offer:
Pros
The platform has a large user base despite the website being new.
Scrap.tf has a live community chat feature where users can chat with each other.
The items on the platform are priced fair compared to Steam.
Scrap.tf offers live chat support.
Cons
While prices are generally better than Steam listings, many items have higher prices compared to other third-party marketplaces.
The commission is unclear and can vary from deal to deal.
About Scrap.tf
Scrap.tf is an online marketplace for Team Fortress 2 items where users can purchase or sell TF2 items for real cash. Users can also trade their old TF2 items in exchange for new ones.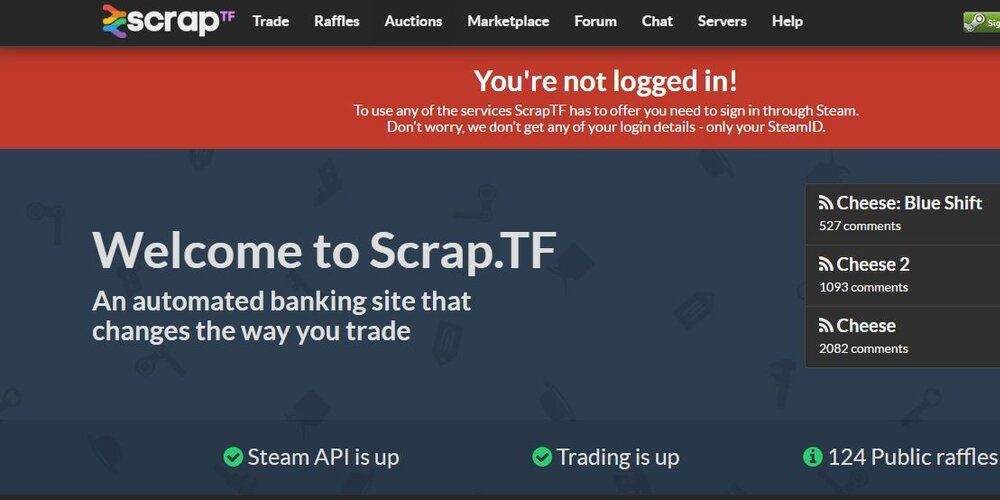 Our Scrap.tf Review
One of the stand-out features of Scrap.tf is that it is an all-in-one place where you can buy and sell TF2 items for cash and trade your TF2 items in exchange for newer ones. Most sites offer one of the two services. The best part is that users can also list their trade offers as auctions for others to bid. Almost everything related to TF2 item transactions is available at Sraptf.
Another great feature available at Scrap.tf is the live chat. It allows users to chat with each other as they make trades or hang out on the platform. You can also get involved in various giveaways. Plus, if you need help with anything, the website has a responsive and helpful support network.
However, there are several downsides. Firstly, the design of the website isn't great. The style and size used for the text feel a bit odd. Also, the color scheme is not as appealing.
Another issue is that the inventory isn't as strong as some others. While prices, in general, are fair compared to Steam, several items have much higher prices. You can get a lot better pricing for those items at other third-party marketplaces.
Concluding this Scrap.tf review, it is worth a try since it's legit and safe to use. However, we feel there are better options with more features and better pricing.
Scrap.tf Key Features
Automated trade service for fast trading.
A clean and aesthetic design.
Raffles and other giveaway incentives.
A decent inventory.
Premium access and merchandise.
Community live chat.
P2P auctions and marketplace.
Live support network.
Scrap.tf Summary
| Our rating | 3.0 |
| --- | --- |
| Usability | Standard |
| Languages | 1 |
| Years established | 2012 |
| Official website | Scrap.tf |
Scrap.tf Alternatives
Frequently Asked Questions
✔️What is Scrap.tf?
Scrap.tf is a Team Fortress 2 trading website that offers automated trades and P2P trading, along with other features and incentives.
✔️Is Scrap.tf Legit?
Yes, Scrap.tf is legit. We used the site and found no red flags related to the site's legitimacy. According to our experience, everything worked great.
✔️Is Scrap.tf Trustworthy?
Scrap.tf has a great reputation and mostly positive reviews. We tried making some trades at the site and can confirm that it is trustworthy.
✔️Did Anyone at Scrap.tf Get Scammed?
Not that we can see. We looked at multiple places on the internet for user reviews but only found positive comments. We didn't find any credible scam accusations.