Gaming is fun. What's even more fun is collecting some of the coolest skins out there and equipping them to set yourself apart from others. If you want to buy new skins, you need a decent marketplace. SkinWallet seems like a potential candidate, but will it live up to your standards? Keep reading to find out.

This SkinWallet review was updated in 2023.



Here is a list of some of the best and worst of what SkinWallet has to offer:
Pros
SkinWallet has a large inventory of in-game items and skins.
The platform offers fair prices compared to Steam listings.
SkinWallet has a low commission fee.
The platform has a wide selection of payment options.
The website has an aesthetically pleasing design.
SkinWallet offers a 24/7 support feature.
Besides CSGO, the site also stocks items for Dota 2 and Team Fortress 2.
Cons
The support network could use some work as it isn't as responsive as many other third-party marketplaces.
About SkinWallet
SkinWallet is a highly-rated online marketplace for CSGO skins. At SkinWallet, users not only have the option to buy CSGO skins, but they can also sell their unwanted skins for real cash. The platform also stocks in-game items for other games, including Dota 2 and Team Fortress 2.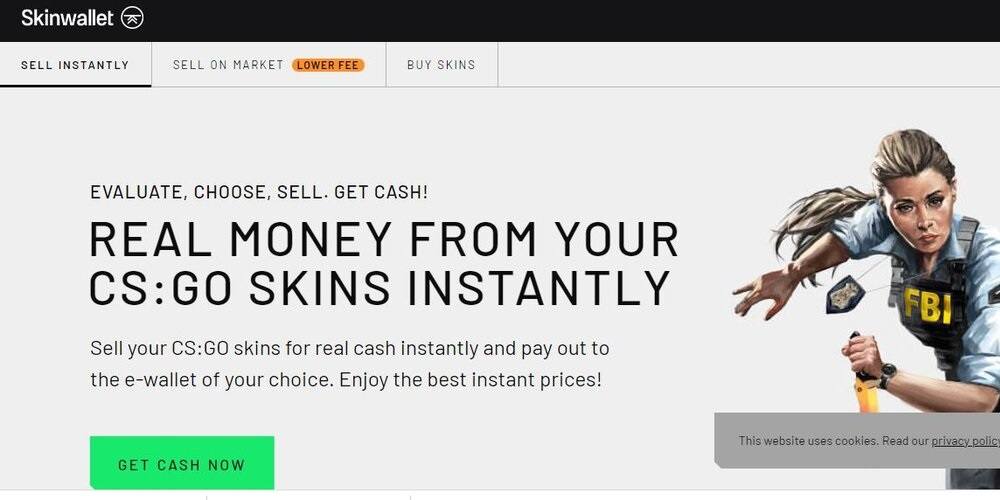 Our SkinWallet Review
SkinWallet is a decent option for buying or selling CSGO skins for multiple reasons, with the first one being that this service offers both bot and player-to-player trading. As for the skins available on the site, the library is quite extensive, with a wide range of options in terms of pricing. Speaking of pricing, the prices for items at SkinWallet are generally quite fair, and you can easily find some great deals.
SkinWallet is also 100% secure, with plenty of safeguarding features. Plus, there are a wide variety of payment methods. Adding to the list of positive attributes, SkinWallet also stocks in-game items for other games, including Dota 2 and Team Fortress 2. If you are not interested in buying skins, you can also sell your CSGO skins for real cash at SkinWallet.
Those are the upsides of using this service, but it isn't perfect. One of the downsides of SkinWallet is that the 24/7 support isn't all that responsive. You can expect to wait for a long time until you get a response. Another problem is that the service has a non-negotiable 0.40$ withdrawal fee.
Concluding this SkinWallet review, it is an OK option for anyone who wants to buy CSGO, Dota 2, or Team Fortress 2 skins. However, we feel there are several better options out there.
SkinWallet Key Features
P2P trading and bot trading are offered.
A wide variety of payment options.
A 100% secure system.
24/7 support network.
A huge inventory.
A slick design with a clear UI.
Affiliate discount incentives.
10% commission fee and 0.40$ withdrawal fee as standard.
Claim SkinWallet Free Bonus
Go to SkinWallet using our link.
Register an account.
Enjoy your free bonus!
SkinWallet Summary
| Our rating | 3.5 |
| --- | --- |
| Usability | Easy to use |
| Languages | 9 |
| Years established | 2017 |
| Official website | SkinWallet.com |
SkinWallet Alternatives
Frequently Asked Questions
✔️What is SkinWallet?
SkinWallet is an online marketplace where users can buy skins for popular games, including CSGO, Dota 2, and Team Fortress 2.
✔️Is SkinWallet Legit?
Yes, SkinWallet is legit. It is a transparent operation and has multiple positive reviews. We used the site and found no issues or red flags.
✔️Is SkinWallet Trustworthy?
Yes, SkinWallet is trustworthy. We used the service and bought some CSGO skins. We found some great deals and had no trouble making payments or transferring the skins to our Steam inventories.
✔️Did Anyone at SkinWallet Get Scammed?
From what we can tell from user reviews and Reddit threads, the website has a positive reputation, and there is no evidence that any customer has gotten scammed by SkinWallet.