What to do with all those in-game items you have for Team Fortress 2? Well, you can always use them to play some gambling games on platforms like TF2Bet. You might even win some exciting prizes. However, is TF2Bet the right platform for you or even worth considering? Keep reading to figure out precisely that.

This TF2.Bet review was updated in 2023.



Here is a list of some of the best and worst of what TF2.Bet has to offer:
Pros
The site has an active leaderboard, where users can compete for the top spot.
The TF2Bet platform has a live chat feature that allows users to chat with each other, adding to the overall social aspect.
The signup process is fast. It hardly took us two clicks to sign up using Steam.
The TF2Bet platform has implemented a provably fair system for all gambling games.
Cons
The platform does not accept deposits other than TF2 items.
The support system needs some improvement.
About TF2.Bet
TF2Bet is an online betting platform for Team Fortress 2 skins where you can use your TF2 skins, keys, or other in-game items to play gambling games. The gambling games available at TF2Bet include Coinflip, Upgrader, and Jackpot.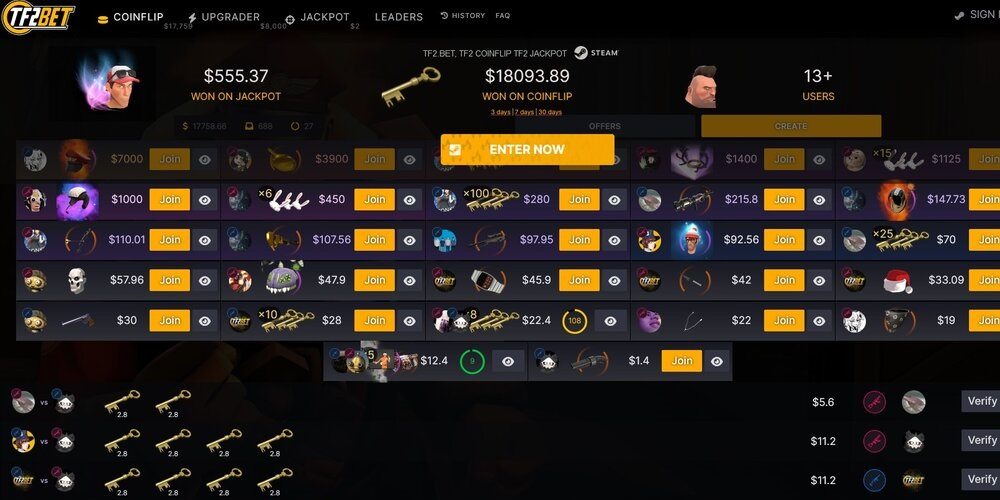 Our TF2.Bet Review
We used the TF2Bet website, and we had an enjoyable experience. The website has a great design and an appealing color scheme. The font size and style of all the text at TF2Bet make it easy to read, and all icons follow a convenient layout. Nothing feels odd or out of place. The site also has an FAQ section that covers almost all questions.
The TF2Bet website has no issues there in terms of safety or security either. All the gambling games at the site are free of any rigging as they use a provably fair system. The transactions are also fast. You don't have to wait unnecessarily long hours for your in-game items to get transferred to your Steam inventory.
The best part about TF2Bet is that users can bring the site fees down to 4% by adding https://tf2.bet to their steam name. However, there are some flaws. For instance, there is no live chat support. If you look at the FAQ section, they ask you to use discord if you have any issues, while other sites offer responsive live chat support.
Concluding this TF2Bet review, it is a good option for anyone looking to play gambling games using their Team Fortress 2 skins or Team Fortress 2 keys. However, we feel the site is lacking in several areas, and you can find better options.
TF2.Bet Key Features
Games/Activities: Coinflip, Upgrader, and Jackpot.
TF2.Bet has several great reviews on different places on the internet.
Deposit Methods: TF2 Skins and TF2 Keys.
Withdrawal Methods: TF2 Skins and TF2 Keys.
Claim TF2.Bet Free Bonus
Go to TF2.Bet using our link.
Register an account.
Enjoy your free bonus!
TF2.Bet Summary
| Our rating | 4.0 |
| --- | --- |
| Usability | Easy to use |
| Languages | 1 |
| Official website | TF2.Bet |
TF2.Bet Alternatives
Frequently Asked Questions
✔️What is TF2.Bet?
TF2Bet is an online gambling platform where users can play gambling games like Coinflip or Jackpot using either their Team Fortress 2 skins or keys.
✔️Is TF2.Bet Legit?
TF2Bet is 100% legit. We found no red flags suggesting that the site is not legitimate or involved in illicit activities.
✔️Is TF2.Bet Trustworthy?
TF2Bet uses a provably fair system for all activities available on their site. Also, we used their services and can confirm that the platform is trustworthy.
✔️Did Anyone at TF2.Bet Get Scammed?
After looking at several places on the internet and hundreds of user reviews, we found a total of zero credible or legitimate scam accusations against the TF2Bet platform.