Are you puzzled about starting to use AribaGold to buy some RuneScape gold? Well, have no worries. To help you in this situation, here is our expert and in-depth AribaGold review that we have created after carefully analyzing it and finding out all its pros and cons.

This AribaGold review was updated on February 2023.



Here is a list of some of the best and worst of what AribaGold has to offer:
Pros
Their prices are the best in town, and the best part is that they even match and adjust the price if you find something better elsewhere.
Deliveries are guaranteed to be within 5 minutes so you can complete your transactions and get your gold quickly.
24/7 live chat customer support
Cons
Their reviews aren't listed on the site itself, but instead just posted links to external sites that provide them like Facebook.
The best rewards on their loyalty programs all require extremely high payments that most users probably won't need to utilize if they just want some gold.
About AribaGold
AribaGold is an online platform that allows its users to buy RuneScape gold. Users can buy purchase gold for both RuneScape 3 and OSRS games. For OSRS gold, the price is $0.37 per million units of gold, and for RuneScape 3 gold, the price is $0.03 per million units of gold.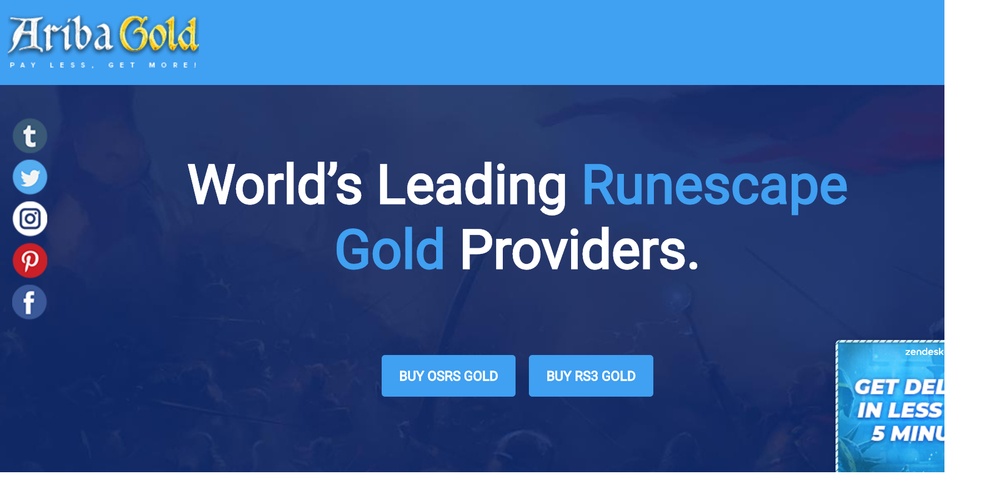 Our AribaGold Review
With over 6000 reviews on Trustpilot, AribaGold is one of the most reviewed online platforms for buying RuneScape gold. Not only that, but the platform has a net rating of an excellent 4.9 stars, which shows that the platform has managed to deliver a high-quality service to its users. It also shows that the platform is completely trustworthy and safe to use.
Along with being super secure, the AribaGold platform also has a great-looking website. The overall design of the AribaGold website seems professional. Not only does it look good, but it performs well too. The website is super easy to use and feels extremely smooth while navigating through it.
The platform also has super competitive prices. As far as our AribaGold review is concerned, we liked it a lot. To conclude this AribaGold review, if you are looking for a great platform with competitive prices, AribaGold is certainly a great choice.
AribaGold Key Features
You can buy OSRS and RuneScape 3 gold at AribaGold.
AribaGold has over 6000 reviews and an excellent rating of 4.9 stars on Trustpilot.
Deposit options include Visa, MasterCard, iDEAL, Skrill, Western Union, UnionPay, Qiwi, POLi, Sofort, GiroPay, Eu Bank Transfer, and Bancontact.
Crypto payment options include Bitcoin, Bitcoin Cash, Ethereum, Litecoin, and Dogecoin.
One Million OSRS Gold Costs $0.37.
One Million RuneScape 3 Gold Costs $0.03.
Claim AribaGold Free Bonus
Go to AribaGold using our link.
Make a purchase.
Enjoy your free bonus!
AribaGold Summary
| Our rating | 4.0 |
| --- | --- |
| Usability | Easy to use |
| Languages | 1 |
| OSRS price | $0.37/M |
| RS3 price | $0.03/M |
| Official website | AribaGold.com |
AribaGold Alternatives
Frequently Asked Questions
✔️What is AribaGold ?
This is a reputable site where you can directly buy RuneScape gold without having to spend hours in game trying to get it for yourself.
✔️Is AribaGold Legit?
All the positive reviews and plethora of secure payment options indicate that this a legit service that you can use safely.
✔️Is AribaGold Trustworthy?
AribaGold has went out of its way to prove that they are trustworthy by providing customers with fast and dependable services every time they want their gold.
✔️Did Anyone at AribaGold Get Scammed?
There's no scamming or shady business going on at AribaGold because everything is well detailed so you know exactly what to do at all times.