If you're looking for a RuneScape gold market that offers much more than just RS gold, then ChicksGold is a fantastic place to be. They offer all sorts of online gold currencies for players – Old School RuneScape, RS 3, Fortnite, World of Warcraft, etc. Let's check out their RuneScape gold market to see how they compare to the competition.

This ChicksGold review was updated on November 2022.



Here is a list of some of the best and worst of what ChicksGold has to offer:
Pros
Speedy delivery with an almost instantaneous transaction
24/7 Service for transactions at any point in the day
Affordable pricing for your RS gold needs
Protected transactions prevent your identity from being stolen
Cons
Limited payment options can bog up the process
Too many services can spread them thin at times, delaying your transaction by a bit
Website design is a bit weird.
ChicksGold Summary
| Overall rank | #7 out of 34 |
| --- | --- |
| Our rating | 4.25 |
| Usability | Easy to use |
| Languages | 1 |
| OSRS price | $0.415/M |
| RS3 price | $0.043/M |
| Official website | ChicksGold.com |
About ChicksGold
ChicksGold is an online platform where people can buy some gold for OSRS and RuneScape 3. Millions of gold can be purchased, at a rate of $0.415 per million for OSRS gold and $0.043 per million for RuneScape 3 gold, with tons of payment options to choose from.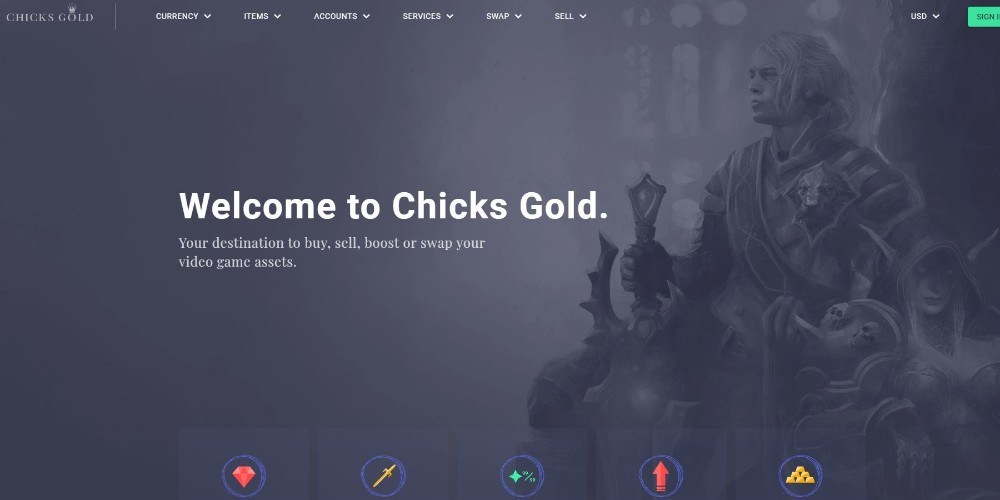 Our ChicksGold Review
ChicksGold Alternatives
Frequently Asked Questions
✔️What is ChicksGold?
ChicksGold is an online marketplace where players can buy RuneScape gold with real money for them to use on their accounts.
✔️Is ChicksGold Legit?
ChicksGold is a completely legit operation that guarantees real-time payment once you've placed your order. They'll deliver your gold to your account ASAP.
✔️Is ChicksGold Trustworthy?
Since there are so many options for secure payments, well laid out steps and instructions, and good ratings, we feel this site is trustworthy.
✔️Did Anyone at ChicksGold Get Scammed?
No one has been scammed by ChicksGold when using their services. All transactions are legit and are sure to be paid out in a timely manner.