Wouldn't it be easier if you could buy some New World gold instead of spending tons of hours farming it? Well, you can do that at DuduCool. But what if it doesn't live up to your standards? Or worse, what if it is a scam? Keep reading this DuduCool review to find out.

This DuduCool review was updated in 2023.



Here is a list of some of the best and worst of what DuduCool has to offer:
Pros
DuduCool has fair rates for in-game items and currencies compared to other sites.
On the DuduCool website, users can view all the prices in four different currencies.
A live chat support feature is available.
There are a lot of deposit options available.
Cons
The live chat support is not that effective, with slow response times and a clunky UI.
There are no crypto payment options available on the DuduCool platform.
About DuduCool
DuduCool is an online retailer for in-game currencies and other items for MMORPGs. The platform also purchases both of these products from users. The games covered at DuduCool include New World, Lost Ark, Path of Exile, Diablo 2: Resurrected, Elden Ring, Elder Scrolls Online, and more.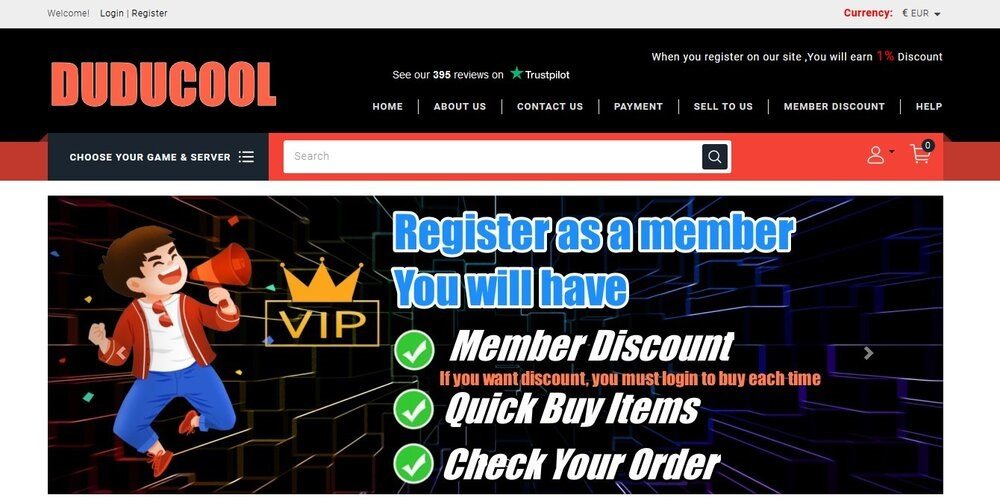 Our DuduCool Review
DuduCool offers a decent service for gamers that wish to buy in-game currencies for MMORPGs. The platform covers almost all of the popular MMORPGs out there. The website is also easy-to-use, with nothing feeling odd or out of place. Icons follow a convenient layout, with text that is not that hard to read.
However, the images, color scheme, and font styles need improvement. They don't follow a consistent theme and don't look that appealing. Another thing that could benefit from some changes is the live chat support feature. Accessing it is a bit too tedious. We had a tough time contacting customer support because of the unnecessary steps involved.
Switching things to a more positive note, DuduCool covers all popular deposit options. Also, both the transaction times and fees are on the lower side. As far as our DuduCool review is concerned, it mostly leans on the positive side.
Concluding this review, it is a decent option and worth a try. However, we feel there are better options that don't have all the issues that the DuduCool platform has.
DuduCool Key Features
Games/Activities: In-Game Items, In-Game Currencies, and Power Leveling.
DuduCool has hundreds of reviews on Trustpilot, with an excellent rating of 5 stars.
Deposit Methods: PaysafeCard, Visa MasterCard, American Express, Discover, giropay, Skrill, sofort, JCB, Maestro, UnionPay, iDeal, Qiwi, WebMoney, Western Union, Alipay, YandexMoney, Bank Transfer, Wechat Pay, PayPal, and Airwallex.
Crypto Payments: Bitcoin.
Withdrawal Methods: PayPal, Skrill, WebMoney, Western Union, Payoneer, PerfectMoney, USDT, and Digital Items.
Claim DuduCool Free Bonus
Go to DuduCool using our link.
Register an account.
Enjoy your free bonus!
DuduCool Summary
| Our rating | 3.25 |
| --- | --- |
| Usability | Standard |
| Languages | 1 |
| Official website | DuduCool.com |
DuduCool Alternatives
Frequently Asked Questions
✔️What is DuduCool?
DuduCool is an online store for in-game currencies and other items for MMORPGs like New World, Lost Ark, Path of Exile, and more. Users can also sell these things to the site for cash.
✔️Is DuduCool Legit?
The DuduCool platform has a perfect 5-star rating at Trustpilot. That, combined with our impeccable experience with the site, confirms that it is 100% legitimate.
✔️Is DuduCool Trustworthy?
You can rest assured that you will be completely safe on the DuduCool platform. We used the site and can confirm that it is trustworthy.
✔️Did Anyone at DuduCool Get Scammed?
Even after looking at hundreds of user reviews for the DuduCool platform, we found a total of zero legitimate scam accusations against DuduCool.