Money makes the world go round, that's how the saying goes. So it's only natural that we all would want new and interesting ways to bolster our monthly earnings and line our pockets with coins. Well, some websites allow for such a thing and today, we will be looking at arguably the most popular of them all, Idle-Empire.

This Idle-Empire review was updated on November 2022.



Here is a list of some of the best and worst of what Idle-Empire has to offer:
Pros
Great rewards and incentives
Unrivalled task variety
Loads of payout options
Low withdrawal minimum
Clear UI and clear tasks
Cons
Customer support is seriously lacking
Idle-Empire Summary
| Overall rank | #1 out of 12 |
| --- | --- |
| Our rating | 4.8 |
| Usability | Easy to use |
| Languages | 1 |
| Year established | 2015 |
| Official website | Idle-Empire.com |
About Idle-Empire
Idle-Empire is amongst the highest rated and most reviewed online platforms that offer cash rewards to its users for completing simple online tasks. The tasks at the Idle-Empire platform include basic things like watching some videos and staying AFK (Away From Keyboard) in video game lobbies for several games.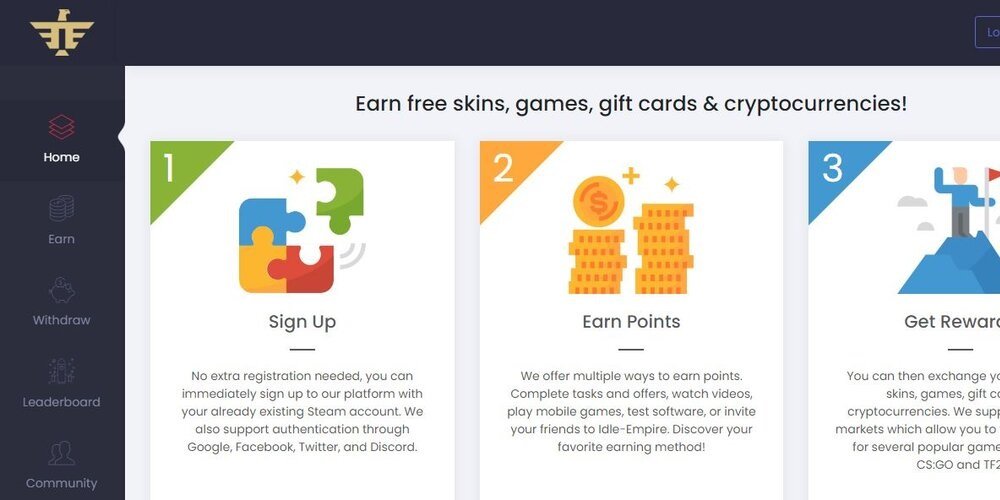 Our Idle-Empire Review
Idle-Empire is probably one of the best-known idle-earning websites around, however, does that mean its the best in class? Well, it's certainly up there. One of the key reasons that users hold this website in a high regard is it's excellent variety of tasks. You wont just be asked to complete survey after survey. You'll also have access to games, promotions, videos and offers to break the monotony and make the process more fun.
We also love the layout of the website. It's colourful, easy to navigate and each set of tasks have clear descriptions and are categorized appropriately. Not to mention that there are so many tasks to choose from and they are replenished so quickly that it's pretty much impossible to run out of things to be doing. Then once you make enough, you can cash out and receive real cash or in-game items equal to the cash value. It's a great system and it's well implemented.
The only downside we found regarding this website is that the support system is poor. So if you complete a survey or task and inexplicably don't receive your reward, it could take hours or days to get a resolution. However, aside from this, Idle Empire is a great website and a great way to generate some more income.
Idle-Empire Key Features
Can earn real cash, or get paid in CSGO skins.
Offers plenty of payment options like gift cards, Crypto and even TF2 items.
Lots of task variety, including offers, game trials, watching videos and more.
A referral option and reward is provided.
Low withdrawal minimum of $1.
Claim Idle-Empire Free Bonus
Go to Idle-Empire using our link.
Register an account.
Enjoy your free bonus!
Idle-Empire Alternatives
Frequently Asked Questions
✔️What is Idle-Empire?
Idle Empire is an Idle-earning website where users can take part in a variety of odd jobs and build up cash, which will allow them to earn real cash, or CSGO/TF2 skins.
✔️Is Idle-Empire Legit?
Yes, Idle Empire is 100% legit. This is evidenced through the huge customer base this service has and the great Trustpilot score linked to the website.
✔️Is Idle-Empire Trustworthy?
Yes, Idle Empire are as trustworthy as they come. We used the service, completed a variety of tasks, received the reward for all of them and cashed out with no hassle.
✔️Did Anyone at Idle-Empire Get Scammed?
On occasion, some third parties won't give you the reward you are owed. However, Idle Empire are happy to step in and sort things for you. So while the third parties aren't all that trustworthy, Idle Empire certainly is.