Collecting gold the traditional way in RuneScape can take a lot of time. Fortunately, we have platforms like KingOzGold, where you can buy RuneScape gold with real money. But does it have all the features you need? Don't worry. We reviewed KingOzGold to help you decide whether or not it's worth your time. If you want to learn more about the site, keep reading this KingOzGold review.

This YKingOzGold review was updated in 2023.



Here is a list of some of the best and worst of what KingOzGold has to offer:
Pros
Prices for OSRS gold at KingOzGold are super competitive.
The website has a modern and minimalistic design, with a straightforward process for buying OSRS gold.
KingOzGold has an excellent rating of 4.9 stars and hundreds of reviews on Trustpilot.
It is one of the few platforms that accept payments through crypto options, like Bitcoin and Ethereum.
Users can change the website's display currency, choosing from five different currency options.
Cons
KingOzGold does not sell gold for RuneScape 3.
About KingOzGold
KingOzGold is a website where users can buy and sell gold for OSRS. The price for OSRS gold at KingOzGold is $0.37 per million, and you can purchase it through several transfer options, including PayPal, Bitcoin, Ethereum, and Litecoin.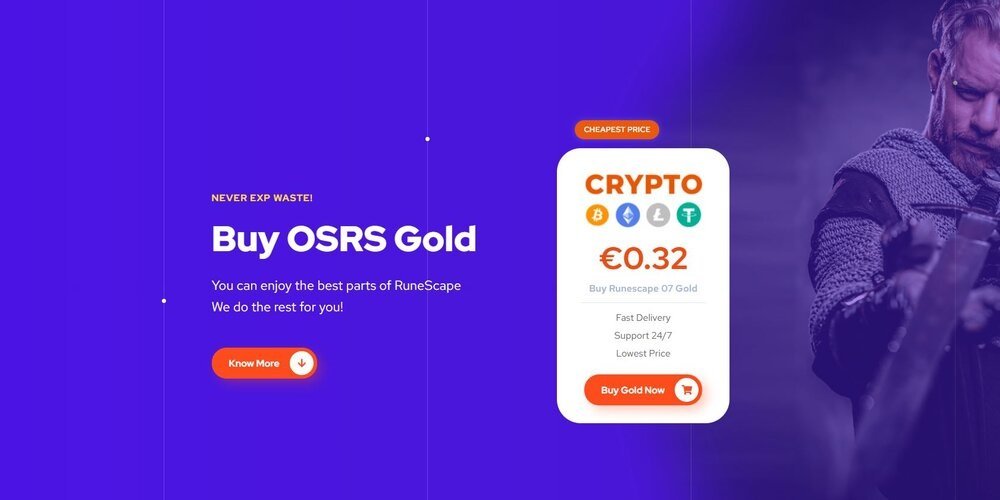 Our 
KingOzGold

Review

We used KingOzGold, and our experience with this site was quite pleasant. One of the main things we liked about the website is its minimalistic, straightforward, and beginner-friendly design. The main page is not cluttered with anything unnecessary. The only thing it consists of is the buy prompt for OSRS gold. We also noticed that the KingOzGold site is super responsive and lag-free.

Besides good looks, the KingOzGold platform has several other great features. Firstly, the rates for OSRS gold are some of the most competitive, as far as what we have seen in this space. We did not find many options that sell gold for a lower price.

Secondly, buying gold, from creating an account to getting gold in-game, is super quick because of the fast delivery times. We bought some gold ourselves, and it took almost no time for them to meet us in-game and transfer the gold.

However, there is one big issue with KingOzGold. The platform doesn't sell gold for RuneScape 3. Considering almost all other sites for RuneScape gold offer gold for both RS3 and OSRS, we would have preferred to see RS3 gold available at KingOzGold.

Summing it all up, KingOzGold is a decent platform. However, it sadly isn't one for people that want RS3 gold. We feel there are several better options that provide more features.
KingOzGold Key Features
Games/Activities: OSRS gold.
KingOzGold has an excellent rating of 4.9 stars and hundreds of reviews on Trustpilot.
Deposit Methods: PayPal.
Crypto Payment Methods: Bitcoin, Ethereum, and Litecoin.
The price for 1 Million OSRS Gold is 0.37 USD.
Claim 
KingOzGold

Free Bonus
Go to KingOzGold using our link.
Register an account.
Enjoy your free bonus!
KingOzGold Summary
| Our rating | 4.0 |
| --- | --- |
| Usability | Easy to use |
| Languages | 1 |
| OSRS price | $0.37/M |
| RS3 price | |
| Official website | KingOzGold.com |
KingOzGold Alternatives
Frequently Asked Questions
✔️What is KingOzGold?
KingOzGold is an online platform where users can buy Old School Runescape gold through cash transfer options like Bitcoin, Paypal, and more.
✔️Is KingOzGold Legit?
KingOzGold has several great reviews. We also used the site and found no issues that would compromise its legitimacy. We can confirm that it is legit.
✔️Is KingOzGold Trustworthy?
KingOzGold is one hundred percent trustworthy. We bought some OSRS gold from them and received all the gold within minutes.
✔️Did Anyone at KingOzGold Get Scammed?
There are no reports or any risk of scams at KingOzGold. We looked at a large set of user reviews and did not find any evidence to suggest that the site has scammed people.