Looking to buy some OSRS gold from KingOzGold but don't know if it's the right platform for you? To help you with this, we took the time to do a complete KingOzGold review so that you know exactly what KingOzGold has to offer.

This YKingOzGold review was updated on November 2022.



Here is a list of some of the best and worst of what KingOzGold has to offer:
Pros
Prices for OSRS gold at KingOzGold are super competitive.
The KingOzGold website is very minimalistic, with a straightforward process for buying OSRS gold.
KingOzGold has an excellent rating of 4.9 stars and hundreds of reviews on Trustpilot.
KingOzGold is one of the few platforms to allow payments to be made using crypto payment options.
Users of KingOzGold have the option to view the website in one of five different currencies, which makes it easier for people living in different parts of the world.
Cons
Despite being a minimalistic website, navigating through it can be a bit tricky as not all icons are on the main page.
KingOzGold Summary
| Overall rank | #12 out of 34 |
| --- | --- |
| Our rating | 4.0 |
| Usability | Easy to use |
| Languages | 1 |
| OSRS price | $0.37/M |
| RS3 price | |
| Official website | KingOzGold.com |
About KingOzGold
KingOzGold is a website where users can buy and sell gold for OSRS. At KingOzGold, users can instantly make payments for as much gold for OSRS as they want using the several payment options available. After payment is complete, the gold will get delivered into their account.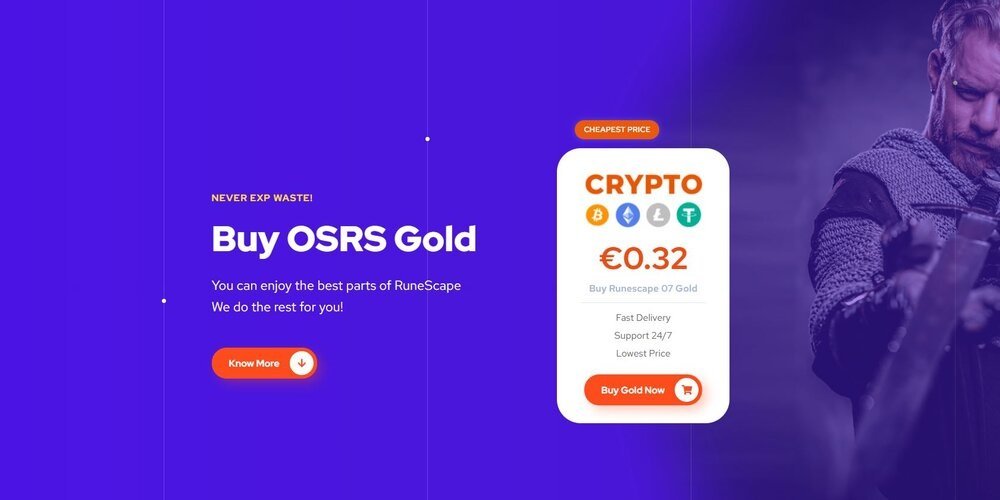 Our 
KingOzGold

Review

Heading into any online website for buying OSRS gold, what users tend to look for are the prices. However, we prefer to dive a lot deeper into the platform to find all its pros and cons, and that's exactly what we did. As we entered the website, we found it to be quite minimalistic, straightforward, and beginner-friendly. The main page is not cluttered with anything unnecessary. The only thing that the main page consists of is the buy prompt for OSRS gold. Another thing that we noticed about the website was that it was quite fluid and quick.

Besides good looks, the KingOzGold platform has a lot more going for itself. Firstly, the rates for OSRS offered at KingOzGold are some of the most competitive. Secondly, the process of creating an account and buying gold is very fast and it took almost no time for them to deliver gold when we tried it ourselves. Along with all that, the website is super secure, legitimate, and trustworthy. There have been zero scam reports for the website and it has an excellent rating on Trustpilot. So, in the end, we can say this with 100% surety, KingOzGold is one of the best platforms for buying OSRS gold.
KingOzGold Key Features
Games/Activities: Buy OSRS gold.
KingOzGold has an excellent rating of 4.9 stars and hundreds of reviews on Trustpilot.
Deposit Methods: PayPal.
Crypto Payment Methods: Bitcoin, Ethereum, and Litecoin.
The price for 1 Million OSRS Gold is 0.36 USD.
Claim 
KingOzGold

Free Bonus
Go to KingOzGold using our link.
Register an account.
Enjoy your free bonus!
KingOzGold Alternatives
Frequently Asked Questions
✔️What is KingOzGold?
KingOzGold is an online platform where users can instantly get some Old School Runescape gold. Users can also sell OSRS gold if they want.
✔️Is KingOzGold Legit?
KingOzGold has all the necessary licensing and complies with all the proper regulations to provide the service that it provides, which makes it completely legit.
✔️Is KingOzGold Trustworthy?
With an excellent 4.9-star rating on Trustpilot and the SSL encryption protocol for its website, KingOzGold is one hundred percent trustworthy.
✔️Did Anyone at KingOzGold Get Scammed?
There are tons of people that use KingOzGold. We tried it ourselves and got what we paid for instantly. There are no reports or any risk of scams at KingOzGold.