Buying RuneScape gold is a great way to save time. You don't have to spend hours grinding gold and can spend all that saved time on other hobbies or simply playing RuneScape. However, finding a platform where you can buy RuneScape gold can be challenging. To help you with that, we tested NMZTraining, a RuneScape gold store, and reviewed it. Keep reading to learn more about what the site offers.

This NMZTraining review was updated in 2023.



Here is a list of some of the best and worst of what NMZTraining has to offer:
Pros
NMZTraining offers much more than RuneScape gold, including leveled accounts, power leveling, and more.
The platform has 24/7 live chat support.
Multiple payment options are available including PayPal, MasterCard, Visa, Bitcoin, and more.
Cons
The customer support is slow.
The UI of the site is very confusing.
The pricing at NMZTraining is the highest we have seen.
About NMZTraining
NMZTraining is an online store where you can buy RuneScape 3 and OSRS gold for cash. The platform also sells RuneScape accounts and other features like power leveling. Users can also sell their RuneScape gold to the site for cash.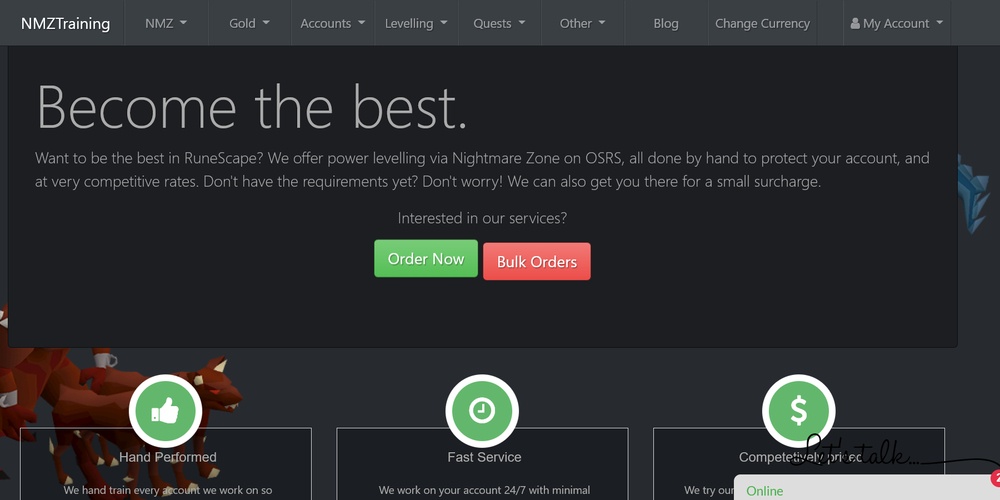 Our NMZTraining Review
Let's start off with the positives. Firstly, NMZTraining offers multiple other services and digital products besides RuneScape gold. You can buy leveled accounts for RuneScape, power leveling, and more. Plus, the site has plenty of payment options, including crypto options like Bitcoin. Also, the site has a live chat support feature for questions or queries.
However, there are multiple downsides to NMZTraining. Firstly, the prices for RuneScape gold are way too high, higher than most platforms we have seen. Secondly, while there is a live chat support feature, it is very slow, making you wait for a long time for a response.
Another issue with the NMZTraining site is the UI. The placement of icons and the overall layout of the website feels odd. Everything seems out of place. It certainly needs some work.
Concluding this NMZTraining review, it is a legit site and delivers what you pay for. However, because of the many issues, we feel there are much better options out there.
NMZTraining Key Features
OSRS Gold for $0.60/M.
RS3 Gold for $1.00/M.
Zero cashback on transactions over $50.
24/7 customer service via live chat.
Payment options include G2A Pay, Bitcoin, PayPal, Visa, Skrill, and more.
Claim NMZTraining Free Bonus
Go to NMZTraining using our link.
Make a purchase.
Enjoy your free bonus!
NMZTraining Summary
| Our rating | 2.0 |
| --- | --- |
| Usability | Confusing |
| Languages | 1 |
| OSRS price | $0.60/M |
| RS3 price | $1.00/M |
| Official website | Nmztraining.com |
NMZTraining Alternatives
Frequently Asked Questions
✔️What is NMZTraining?
NMZTraining is an online store where users can buy RuneScape 3 and OSRS gold for cash. Users can also sell those items on the website.
✔️Is NMZTraining Legit?
NMZTraining appears to be legit. We used the site to confirm that. Fortunately, we found that everything worked as advertised.
✔️Is NMZTraining Trustworthy?
We bought some gold from NMZTraining and faced no issues. We can confirm that it is a trustworthy platform.
✔️Has Anyone Been Scammed at NMZTraining?
There is no evidence to support that. We looked at a couple of user reviews and did not find any scam accusations.