In crafting this NMZTraining review, I found that there is more to NMZTraining than what initially meets the eye. Though the site may seem sparse, it is a rich space dedicated to helping avid players to make the most of their in-game journeys through gold, equipment, and handy level-ups.

This NMZTraining review was updated on February 2023.



Here is a list of some of the best and worst of what NMZTraining has to offer:
Pros
A multi-purpose site offering gold, quests, equipment, and account level ups
Ability to buy orders in bulk when a quest calls for plenty of gold
Highly rated and reputable among other gamers
24/7 live chat support
Ability to change currency if outside of the US
Cons
After asked if there are any promotions, they suggested us to go elsewhere
Gold can often be sold out or in limited supply
Not as many payment options available
About NMZTraining
If you want to be the best in RuneScape, you're going to need the right tools to get the job done fast. Enter, NMZTraining, a site dedicated to offering up power leveling via gold, gear, and bulk orders.  Let's dive right into the NMZTraining review below.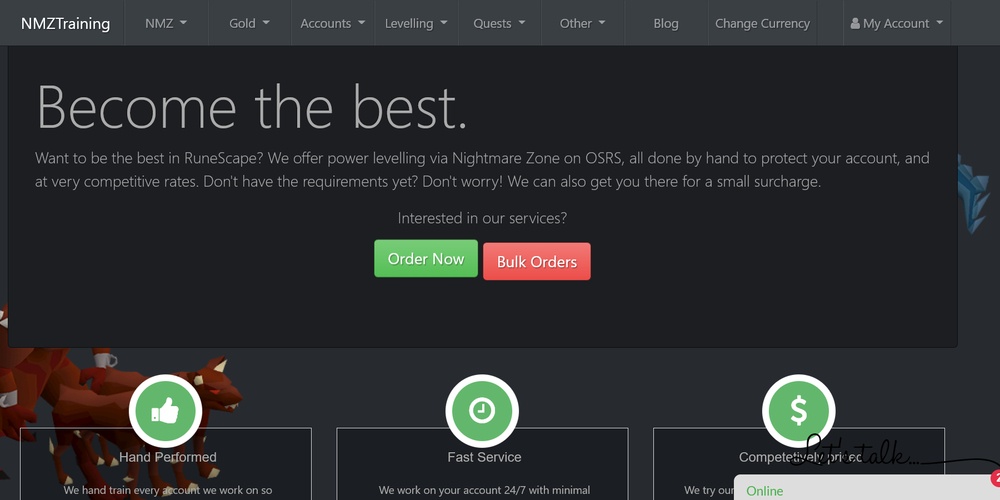 Our NMZTraining Review
NMZTraining isn't your standard RuneScape Gold buying site. In addition to offering both OSRS and RS3 gold (buy or sell), they also offer up equipment, account leveling, and questing services. For the purposes of this review, we merely tested the buying process when it comes to OSRS gold. What did I find? To start, there is typically a more limited amount of gold in stock than on other sites. Sometimes, they do sell out. With that said, I did manage to pick up 25/M of gold for $16.25. The checkout process was easy with G2A Pay and required nothing more than standard checkout information. Overall, it was easy.
During the checkout process, I did manage to bring up a chat screen just to ask about any promotions. Customer service is available 24/7 via the live chat option. I found my agent to be knowledgeable and clearly as invested in RuneScape as I am. Another bonus. Once my purchase was complete, I received my product in under 5 minutes. As I waited, I read through the reviews. Though the site is not yet rated on TrustPilot, the site itself boasts hundreds of positive reviews. Nearly every buyer felt as if the site was legit and enjoyed zero issues with payment, delivery, or buying services.
In my opinion, this is a legit RuneScape gold site that won't leave you high and dry, nor will you end up regretting your purchase. Though certain types of gold can be limited, they are a great service to deal with on the regular.
Anyone who has been playing RuneScape for any length of time knows that you're going to need a lot of gold to take on the biggest of the bosses. Grinding all that gold on your own isn't always an option.
NMZTraining Key Features
OSRS Gold for $0.60/M.
RS3 Gold for $1.00/M.
Zero cashback on transactions over $50.
100+ five star reviews.
Delivery in under 5 minutes.
24/7 customer service via live chat.
Payments via G2A Pay.
Not rated on TrustPilot.
Claim NMZTraining Free Bonus
Go to NMZTraining using our link.
Make a purchase.
Enjoy your free bonus!
NMZTraining Summary
| Our rating | 2.0 |
| --- | --- |
| Usability | Confusing |
| Languages | 1 |
| OSRS price | $0.60/M |
| RS3 price | $1.00/M |
| Official website | Nmztraining.com |
NMZTraining Alternatives
Frequently Asked Questions
✔️What is NMZTraining?
NMZTraining is a RuneScape buying site that offers users a safe secure play to buy and sell gold, equipment, quest assistance, and account leveling services.
✔️Is NMZTraining Legit?
Based on the sheer number of positive reviews and lack of complaints, NMZTraining appears to be a legit site offering real gold to RuneScape players.
✔️Is NMZTraining Trustworthy?
Hundreds of transactions have been conducted on NMZTraining without a hitch. In fact, they stand as a reputable place to buy all things RuneScape related to helping you level up in-game.
✔️Has Anyone Been Scammed at NMZTraining?
There is no evidence that anyone has ever been intentionally scammed at NMZTraining . Based on the level of customer support, the site seeks to make sure customer happiness is a top priority.