If you are looking for an all-in-one marketplace for RuneScape gold or in-game currencies for other video games, you can check out PlayerAuctions. But does it have everything you are looking for? Will it even be worth your time? To find out, keep reading this PlayerAuctions review.

This PlayerAuctions review was updated in 2023.



Here is a list of some of the best and worst of what PlayerAuctions has to offer:
Pros
Since PlayerAuctions is a marketplace where users can list items and in-game currencies for sale, users have a ton of options in terms of pricing.
The minimum price for RuneScape gold available at PlayerAuctions is super competitive.
At PlayerAuctions, users can also buy or sell video game accounts.
The platform has plenty of payment and withdrawal options.
The site also accepts deposits in terms of crypto through Coinbase.
Cons
The minimum RuneScape gold you can buy gets decided by the seller, which is relatively high.
The customer support network at PlayerAuctions is lacking.
About PlayerAuctions
PlayerAuctions is an online marketplace where users can buy and sell in-game currencies for games like RuneScape, New World, and more. The platform also allows users to list video game accounts for sale. At PlayerAuctions, the price for OSRS gold is $0.378 per million and $0.0285 per million for RuneScape 3 gold.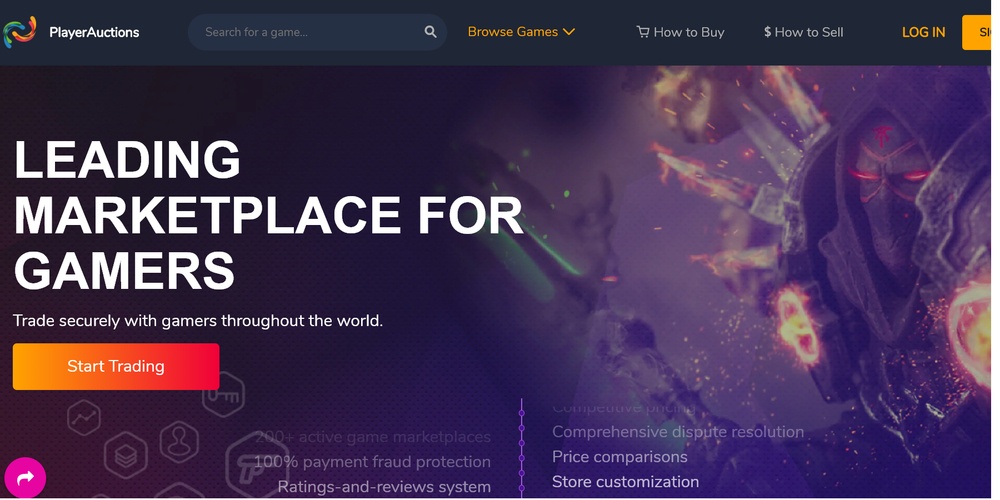 Our PlayerAuctions Review
PlayerAuctions provides a decent experience when it comes to buying RuneScape gold. What we like about RuneScale is that it works as a marketplace, allowing users to list offers for in-game currencies. What this means is that you have a plethora of options to choose from. If you don't like the price, you can scroll down and move on to another seller.
The best part is that you can find some of the lowest prices for RuneScape gold at PlayerAuctions. The lowest price we found was $0.378 per million for OSRS gold and $0.0285 per million for RuneScape 3 gold. You might experience different prices than the ones we have mentioned since it gets set by the sellers.
However, this poses a problem. Sellers also determine the minimum amount of gold you can purchase, which is quite large at times. In most cases, you'd have to spend a minimum of $20. Switching things to a more positive note, PlayerAuctions has plenty of secure payment and withdrawal options for you to choose from. The site even accepts crypto deposits.
Concluding this PlayerAuctions review, it is one of the more decent options. However, the variable pricing and overall marketplace system are not ideal for users just looking for some RuneScape gold. For that, we feel there are better options that deal exclusively with RuneScape and are much more experienced.
PlayerAuctions Key Features
OSRS gold pricing gets set by individual sellers and starts from $0.55/M.
The average price for RS3 is $0.08/M.
Reviews get posted for each seller on the site.
Top sellers have thousands of reviews to their names.
Other services include buying items, video game accounts, and power-leveling services from individual sellers.
You are also able to become a seller yourself if you have gold.
The quantity depends on each seller, but you can buy from multiple sellers.
Claim PlayerAuctions Free Bonus
Go to PlayerAuctions using our link.
Make a purchase.
Enjoy your free bonus!
PlayerAuctions Summary
| Our rating | 3.25 |
| --- | --- |
| Usability | Standard |
| Languages | 1 |
| OSRS price | $0.55/M |
| RS3 price | $0.08/M |
| Official website | PlayerAuctions.com |
PlayerAuctions Alternatives
Frequently Asked Questions
✔️What is PlayerAuctions?
PlayerAuctions is an online marketplace where you can buy RuneScape gold. You can also purchase other digital items like Vidoe game accounts and in-game currencies for other games.
✔️Is PlayerAuctions Legit?
We tried the site and found that everything worked flawlessly. We can confirm that the PlayerAuctions platform is 100% legit.
✔️Is PlayerAuctions Trustworthy?
PlayerAuctions has top-notch payment fraud protection and dispute resolutions. They offer buyer protection as well. All of that reassures us that the site is Trustworthy.
✔️Did Anyone at PlayerAuctions Get Scammed?
Since you're buying from individual sellers rather than one source, you might run into a scammer. However, the site has several protection measures in place to prevent that, and there have been no scam accusations against PlayerAuctions.