If you're looking for competitively priced gold from a trustworthy and reputable site, let this PlayerAuctions review be your jumping-off point.

This PlayerAuctions review was updated on February 2023.



Here is a list of some of the best and worst of what PlayerAuctions has to offer:
Pros
Since there are many different sellers, if you don't like the price of one, you can just check out another to find better prices
There are ratings and reviews for each individual user so you'll know that you're buying from a reputable source, with over 2 million traders.
Cons
Prices are much higher compared to other trading sites, and there's no option to buy custom amounts instead of the amount dictated by the seller
Since you're dealing with individual users, you run the risk of getting scammed or meeting a fraudulent seller, though the site does offer protections
About PlayerAuctions
PlayerAuctions is an experienced RuneScape gold marketplace. This is a well-established and aesthetically pleasing site that follows through with their promises of an instantaneous and secure transaction.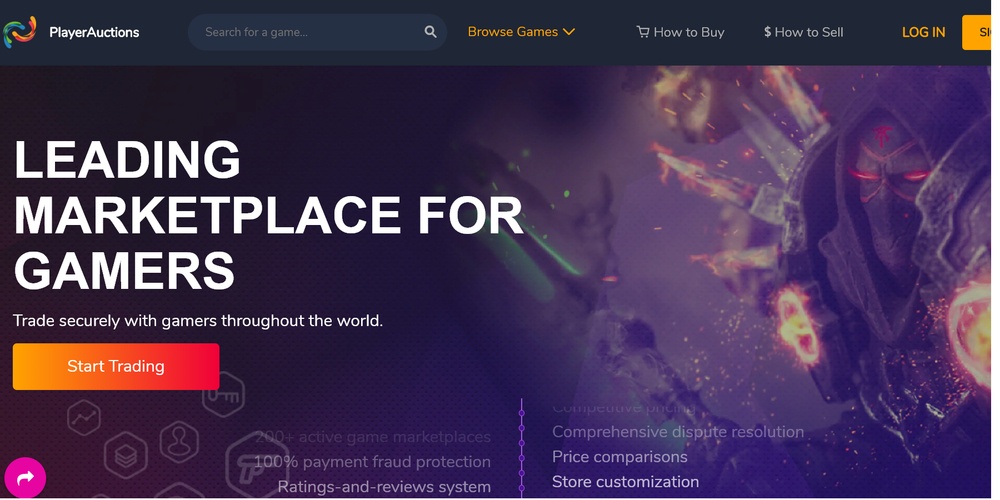 Our PlayerAuctions Review
Has your heart ever sank when you saw the prices for some of the best items in RuneScape? Do you dread the amount of hours you would have to spend just to get the bare minimum gold needed to move on? Thankfully, that's no longer going to be a problem because online storefronts where you can buy and sell gold directly to get the amount you need right away. Getting gold is easy, and you'll always have different options because you get that gold directly from other players and sellers. There's unlikely ever going to be a shortage because you'll always find someone willing to sell. The whole process is fast, safe and ban free. In our opinion, our PlayerAuctions review calls it recommended because this is a platform that puts the choice in the players hands instead of something they can't control.
PlayerAuctions is quite different in a way it operates from the other OSRS gold sellers. They host many individual sellers and anyone can become a seller on their platform.
PlayerAuctions Key Features
OSRS gold pricing depends on individual sellers, starts from $0.55/M.
Average price for RS3 is $0.08/M.
Reviews are posted for each individual seller on the site.
Top sellers having thousands of reviews to their names.
Other services include buying items, full accounts, and powerleveling services from individual sellers.
You are also able to become a seller yourself if you have gold.
Quantity is dependant on each individual sellers stock, but you're able to buy from multiple sellers at the same time should the need arise.
Claim PlayerAuctions Free Bonus
Go to PlayerAuctions using our link.
Make a purchase.
Enjoy your free bonus!
PlayerAuctions Summary
| Our rating | 3.25 |
| --- | --- |
| Usability | Standard |
| Languages | 1 |
| OSRS price | $0.55/M |
| RS3 price | $0.08/M |
| Official website | PlayerAuctions.com |
PlayerAuctions Alternatives
Frequently Asked Questions
✔️What is PlayerAuctions?
PlayerAuctions is an online auction site where you can buy RuneScape gold (and other items) directly from other sellers who are currently playing the game
✔️Is PlayerAuctions Legit?
PlayerAuctions has been in the business since 1999 and has over 2 million registered sellers, and they offer buyer protection as well
✔️Is PlayerAuctions Trustworthy?
PlayerAuction is a safe place to buy because they have implemented features such as payment fraud protection, dispute resolutions, and customer support
✔️Did Anyone at PlayerAuctions Get Scammed?
Since you're buying from individual sellers rather than one source, there is the possibility you might run into a scammer, however the site has several protection measures in place