Are you on the fence about Realist Gold? Aren't sure where to start when buying RuneScape gold? Well, you are not alone. Deciding on a platform like this can be challenging since there are multiple options. Let this RealistGold review be your guide. Keep reading so you can make an informed decision.

This RealistGold review was updated in 2023.



Here is a list of some of the best and worst of what RealistGold has to offer:
Pros
The platform guarantees quick deliveries.
RealistGold offers 24/7 customer service with well-trained agents.
RealistGold offers other features besides RuneScape gold purchasing, including RuneScape gold swapping and more.
The platform offers multiple deposit options.
Cons
The prices for RuneScape gold at RealistGold are on the higher side.
The website has a weird UI that doesn't seem intuitive.
About RealistGold
RealistGold is a website where people can buy RuneScape 3 or OSRS gold, with a price tag of $0.07 per million units of gold for RuneScape 3 and $0.53 per million units for OSRS gold. The platform also offers other features like RuneScape gold swap.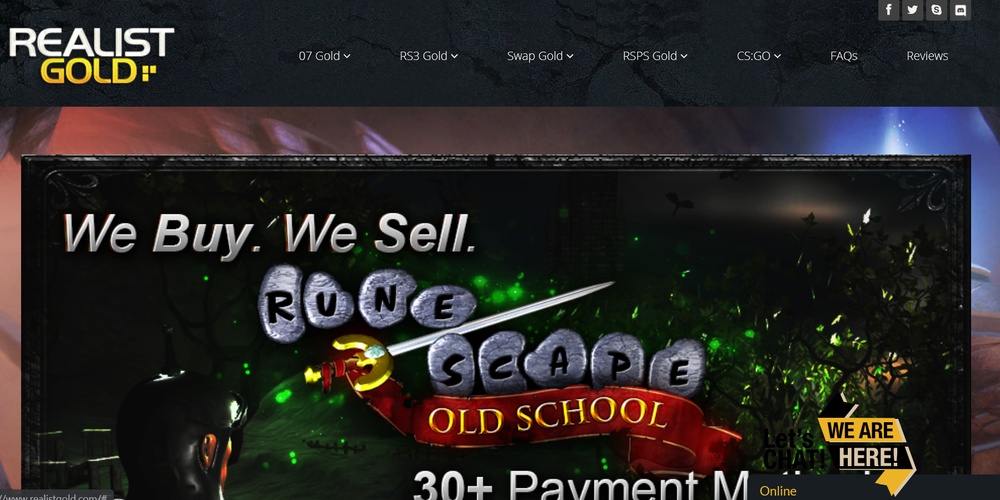 Our RealistGold Review
We got into RealistGold with high expectations based on the overwhelmingly positive reviews. Fortunately, the platform lived up to most of those expectations. Firstly, they offer fast delivery. It took only a few minutes to meet their representative in-game and get the gold after making the payment.
Speaking of payments, we experienced fast, smooth, and safe transactions at RealistGold. We also gave the live chat support a try. We found that the representatives were responsive, knowledgeable, and spoke clean English. They answered every question we had and were very polite.
We also took the time to read through the reviews both on the site and on TrustPilot. The user reviews suggested that other gamers had the same experience we did with buying RuneScape gold. Reviewers noted that transactions were fast, customer service was A+, and they didn't deal with the headaches while purchasing gold from RealistGold.
However, we did come across several issues. Firstly, the pricing is a bit on the higher side. We found multiple platforms that offer much lower prices for RuneScape gold. Another downside of RealistGold is the website's UI. It's not beginner-friendly, nor is it easy to understand.
Concluding this RealistGold review, it is one of the better options for RuneScape gold. However, we feel multiple options provide better services and pricing.
RealistGold Key Features
OSRS Gold for $0.53 per million.
RS3 Gold for $0.07 per million.
Zero cashback offers.
24/7 customer service via live chat.
Instant delivery.
Processing fees covered.
Payments via G2A Pay or PayOp.
Great rating on Trustpilot.
Claim RealistGold Free Bonus
Go to RealistGold using our link.
Make a purchase.
Enjoy your free bonus!
RealistGold Summary
| Our rating | 3.75 |
| --- | --- |
| Usability | Easy to use |
| Languages | 1 |
| OSRS price | $0.53/M |
| RS3 price | $0.07/M |
| Official website | RealistGold.com |
RealistGold Alternatives
Frequently Asked Questions
✔️What is RealistGold?
RealistGold is a RuneScape gold marketplace where users can buy OSRS and RS3 gold. They also offer other services, including RuneScape gold swapping.
✔️Is RealistGold Legit?
There are multiple positive reviews and a 4.5-star rating on TrustPilot for RealistGold. Also, we used their services and can confirm that it's legitimate.
✔️Is RealistGold Trustworthy?
With secure payment methods and overwhelmingly positive reviews, we are confident that RealistGold is a trustworthy site. We also have our experience with the site to back this claim.
✔️Did Anyone at RealistGold Get Scammed?
Based on hundreds of user reviews we looked at, there is no evidence suggesting that RealistGold has scammed anyone. Nearly every review mentions that the site delivers on its promises.