If you're on the fence about Realist Gold or simply aren't sure where to start when buying RuneScape gold, let this RealistGold review be your guide.

This RealistGold review was updated on February 2023.



Here is a list of some of the best and worst of what RealistGold has to offer:
Pros
Instantaneous delivery
24/7 customer service with well-trained agents
Competitive pricing that is on par with cheap gold sites
Ability to buy or sell both OSRS and RS3 gold
Over 7,000 positive reviews from real gamers
Cons
There is no option to buy or sell accounts on the site
Limited payment options may be a turn off to some users
Few coupon codes available
About RealistGold
From one gamer to another, I found this to be a reputable site that delivers as promised. Click onto the RealistGold webpage and you'll quickly find a site that seems to have the average RuneScape enthusiast in mind.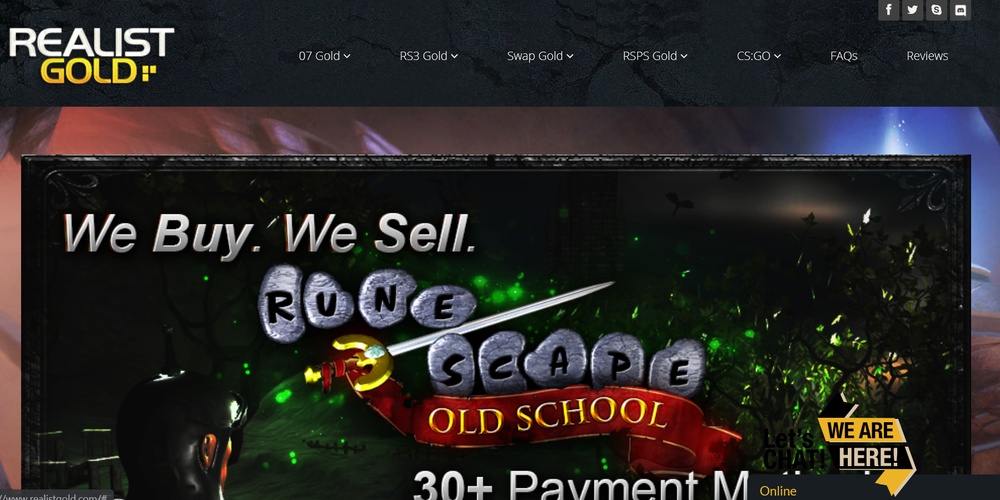 Our RealistGold Review
I tried the RealistGold service with pretty high expectations based on the site itself and the overwhelmingly positive reviews. Not only were those expectations met, but I found the ease of buying both OSRS and RS3 gold was as simple as choosing an amount and hitting checkout. As soon as my payment cleared, my gold was delivered in an instant. It was a fast, smooth, and safe transaction. The site even covered processing fees that typically abound with PayOp. Keep in mind, you can buy and sell gold on the site, but the site does not buy accounts.
In terms of customer service, I did give the live chat a try and found that the representatives were responsive, knowledgeable, and spoke clean English. They answered any and every question I had with total ease. The live chat is available 24/7 to deal with general questions and account issues. I also took the time to read through the reviews both on the site and on TrustPilot. Let's just say, a majority of gamers enjoyed the same easy experience that I did with buying and selling gold. Reviewers noted that transactions were fast, customer service was A+, and that they didn't deal with the headaches offered up by similar sites.
In my opinion, RealistGold is one of the most promising RuneScape gold selling sites on the market. With competitive pricing, great customer service, and high ratings, I trust this site completely.
The overall goal at RealistGold is to sell affordable OSRS or RS3 gold. They want to be a breath of fresh air in the market and pride themselves in having gained more than 1,000 vouches on various RuneScape forums.
RealistGold Key Features
OSRS Gold for $0.53 per unit.
RS3 Gold for $0.07 per unit.
Zero cashback offers.
More than 7,000 positive reviews.
24/7 customer service via live chat.
Instant delivery.
Processing fees covered.
Payments via G2A Pay or PayOp.
Great rating on TrustPilot.
Claim RealistGold Free Bonus
Go to RealistGold using our link.
Make a purchase.
Enjoy your free bonus!
RealistGold Summary
| Our rating | 3.75 |
| --- | --- |
| Usability | Easy to use |
| Languages | 1 |
| OSRS price | $0.53/M |
| RS3 price | $0.07/M |
| Official website | RealistGold.com |
RealistGold Alternatives
Frequently Asked Questions
✔️What is RealistGold?
RealistGold is a unique spin on the RuneScape Gold marketplace. They allow users to buy and sell OSRS and RS3 gold. They also have a marketplace for CS: GO players.
✔️Is RealistGold Legit?
With more than 7,000 positive reviews and a rating of "great" on TrustPilot, there is no reason to believe that RealistGold is not a legit site.
✔️Is RealistGold Trustworthy?
With secure payment methods and overwhelmingly positive reviews from real gamers, RealistGold is a trustworthy site for buying both OSRS and RS3 gold.
✔️Did Anyone at RealistGold Get Scammed?
Based on research and reviews,  there is not any evidence of scamming at RealistGold. Nearly every review mentions that the site delivers as promised and that payment was totally secure.