Thinking of using the RSGoldMine platform to buy some RuneScape gold but can't seem to make up your mind. To help you with this decision, here is our RSGoldMine review. We have formulated this review after carefully analyzing the platform to figure out all its pros and cons.

This RSGoldMine review was updated on September 2022.



Here is a list of some of the best and worst of what RSGoldMine has to offer:
Pros
The site is easy to use, and you can find what you're looking for without much effort. Everything is laid out and described well.
They have implemented many security measures so that all transactions are not only safe, but using the gold comes with no risk at all.
Cons
For the loyalty program, the prize you get depends on luck because of the wheel spin instead of your own choice.
You'll have to buy a fair amount of gold before you get enough points to spin the wheel at the loyalty program
RSGoldMine Summary
| Overall rank | #10 out of 34 |
| --- | --- |
| Our rating | 4.0 |
| Usability | Easy to use |
| Languages | 1 |
| OSRS price | $0.42/M |
| RS3 price | $0.05/M |
| Official website | RSGoldMine.com |
About RSGoldMine
RSGoldMine is an online platform where users can come and purchase some RuneScape gold. Gold for both RuneScape 3 and OSRS is available at RSGoldMine. For OSRS gold, the price is $0.42 per million units of gold, and for RuneScape 3 gold, the price is $0.05 per million units of gold.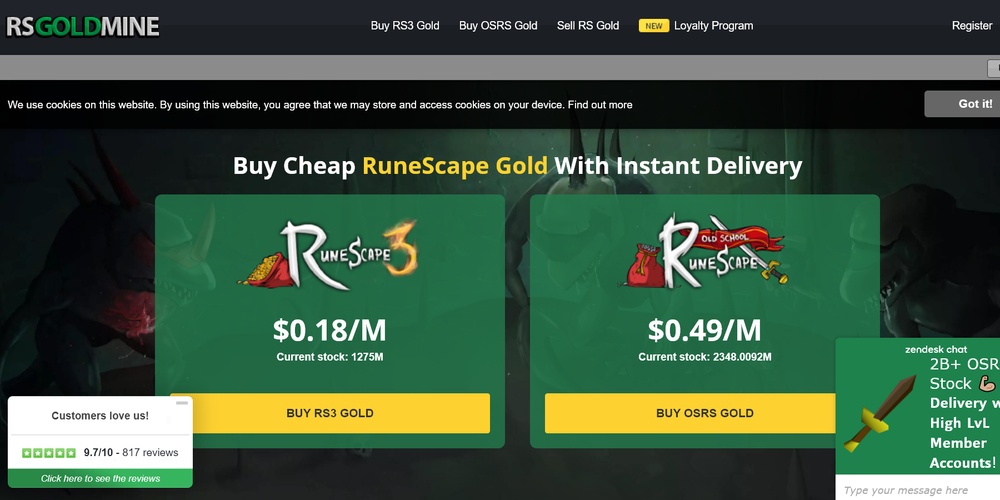 Our RSGoldMine Review
Combined with great animations, an appealing color scheme, an overall design that looks professional, and nearly zero loading times, the website for RSGoldMine delivers an incredibly user-friendly experience. We tried the website for ourselves, and we had a great experience. Navigating through the website was a breeze with everything feeling super responsive.
However, a website is not all about looks and responsiveness. The great thing about the RSGoldMine platform is that it is more than just good looks. The website guarantees a 3 to 4 minute delivery time. There are also a lot of payment options to choose from including most of the popular ones and even crypto payment options like Bitcoin and Ethereum. The website also has a live chat support feature that proved to be quite efficient and effective. Concluding this RSGoldMine review, it is certainly amongst the best places to buy RuneScape gold.
RSGoldMine Key Features
You can buy OSRS and RuneScape 3 gold at RSGoldMine.
RSGoldMine has over 5000 reviews and an excellent rating of 4.8 stars on Trustpilot.
Deposit options include Visa, PayPal, MasterCard, American Express, and Discover.
Crypto payment options include Bitcoin, Bitcoin Cash, Ethereum, USDCoin Litecoin, and Dogecoin.
One Million OSRS Gold Costs $0.42.
One Million RuneScape 3 Gold Costs $0.05.
Claim RSGoldMine Free Bonus
Go to RSGoldMine using our link.
Make a purchase.
Enjoy your free bonus!
RSGoldMine Alternatives
Frequently Asked Questions
✔️What is RSGoldMine?
RSGoldMine is a trusted site where you can buy gold for Old School RuneScape and RuneScape 3 without having to grind for it yourself
✔️Is RSGoldMine Legit?
This site is a legit option because it provides secure transactions and real services. They ensure that you can play without any risk of ban
✔️Is RSGoldMine Trustworthy?
They have been providing customers with their services for years and garnered a trustworthy reputation. We're confident this is a fully secure site
✔️Did Anyone at RSGoldMine Get Scammed?
Throughout their time, they've had zero cases of customers being banned because of their purchases, and they offer many secure payment options