Are you thinking of starting to use the RSGoldPot platform for buying some RuneScape gold but can't seem to decide if it's the best platform for you? To make your decision much easier here is our RSGoldPot review that reveals all its pros and cons. To learn more about RSGoldPot continue reading.

This RSGoldPot review was updated on February 2023.



Here is a list of some of the best and worst of what RSGoldPot has to offer:
Pros
Their customer service is top notch, and if you're not satisfied for any reason, you can even get your full money back.
Service time is extremely fast, you'll be able to get your gold within 15 minutes max from the time of payment.
Cons
There aren't any options for items besides gold. If you want loot you'll have to buy gold and get it yourself.
Since they're a newer site, they don't have as many extra features like loyalty programs or leveling services.
About RSGoldPot
RSGoldPot is an online platform that allows users to purchase some gold for Runescape. Gold for both OSRS and RuneScape 3 is available at RSGoldPot. For OSRS gold, the price is $0.49 per million units of gold, and for RuneScape 3 gold, the price is $0.06 per million units of gold.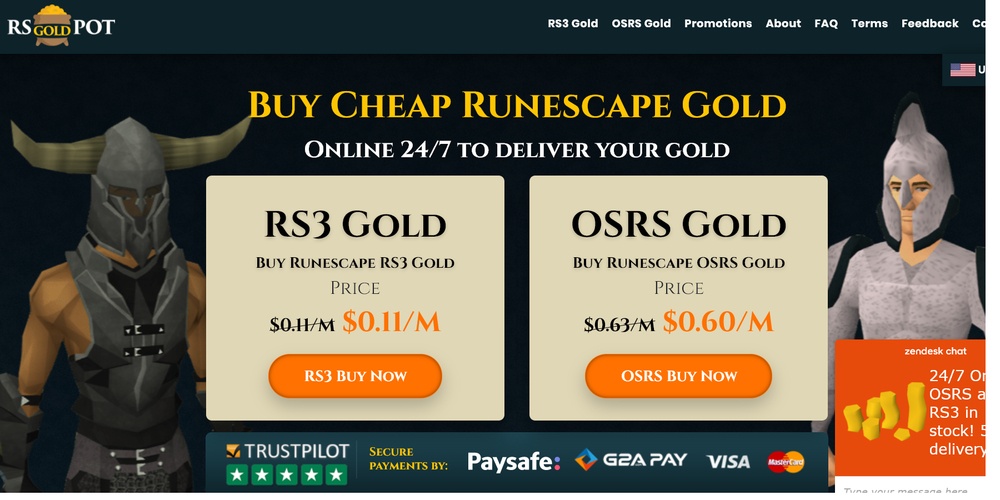 Our RSGoldPot Review
One thing that immediately stood out about the RSGoldPot platform was how straightforward everything is. The website's UI is very well made, with no unnecessary clutter, and icons for all the essential items are located right on the main page. Along with that, the whole process of buying RuneScape gold is quite fast and efficient. Including all that, it took us only a few clicks to sign up. All in all, the whole experience of using the website was quite satisfying.
Not only is the website easy to use, but the platform is loaded with features. While there are not a lot of them, all the popular payment options are available. You can even make crypto payments using your Coinbase account. You can also choose to view the prices of the RuneScape gold in five different currencies. To conclude this RSGoldPot review, if you are looking to buy RuneScape gold, RSGoldPot is definitely worth a try.
RSGoldPot Key Features
You can buy OSRS and RuneScape 3 gold at  RSGoldPot.
RSGoldPot has hundreds of reviews and an excellent rating of 4.8 stars on Trustpilot.
Deposit options include Visa, MasterCard, and Zen.
Crypto payments can also be made using Coinbase.
One Million OSRS Gold Costs  $0.42.
One Million RuneScape 3 Gold Costs  $0.06.
Claim RSGoldPot Free Bonus
Go to RSGoldPot using our link.
Make a purchase.
Enjoy your free bonus!
RSGoldPot Summary
| Our rating | 3.75 |
| --- | --- |
| Usability | Standard |
| Languages | 1 |
| OSRS price | $0.42/M |
| RS3 price | $0.06/M |
| Official website | RSGoldPot.com |
RSGoldPot Alternatives
Frequently Asked Questions
✔️What is RSGoldPot?
RSGoldPot is one of the best RuneScape Gold stores out there featuring fast service and fair competitive pricing for every ounce of gold you want.
✔️Is RSGoldPot Legit?
Despite being so new, they've proven to be legit by making sure that their services do exactly what they advertise and exceed customer expectations.
✔️Is RSGoldPot Trustworthy?
This site is extremely trustworthy because they go above and beyond to make sure customers are secure and satisfied when they purchase. They even feature money back guarantees.
✔️Did Anyone at RSGoldPot Get Scammed?
No one has gotten scammed on this site because they believe in a fair RuneScape experience for all users and don't engage in dishonest practices.