Are you confused about where to buy RuneScape gold from? Well, you are not alone. Many online platforms provide this type of service, and each one promises the best service on the market. Choosing one that is right for you can be challenging. RSGoldPot seems like a viable option. To help you find out whether it meets all your requirements, we tested the site and tried all its features. Keep reading this RSGoldPot review to learn more about the platform.

This RSGoldPot review was updated in 2023.



Here is a list of some of the best and worst of what RSGoldPot has to offer:
Pros
The customer service at RSGoldPot is top-notch.
Their delivery times are fast. You'll be able to get your gold within 15 minutes max from the time of payment.
RSGoldPot offers a live chat support feature.
Users can change the website's display currency, choosing from five different currency options.
RSGoldPot also offers regular promotions and flash sales.
The site accepts payment through crypto options.
Cons
Not a lot of deposit options are available.
The prices for RuneScape gold at RSGoldPot are a bit on the pricier side, especially RuneScape 3 gold.
About RSGoldPot
RSGoldPot is an online platform where users can purchase gold for Runescape. Gold for both OSRS and RuneScape 3 is available at the site. For OSRS gold, the price is $0.42 per million units of gold, and for RuneScape 3 gold, the price is $0.06 per million units.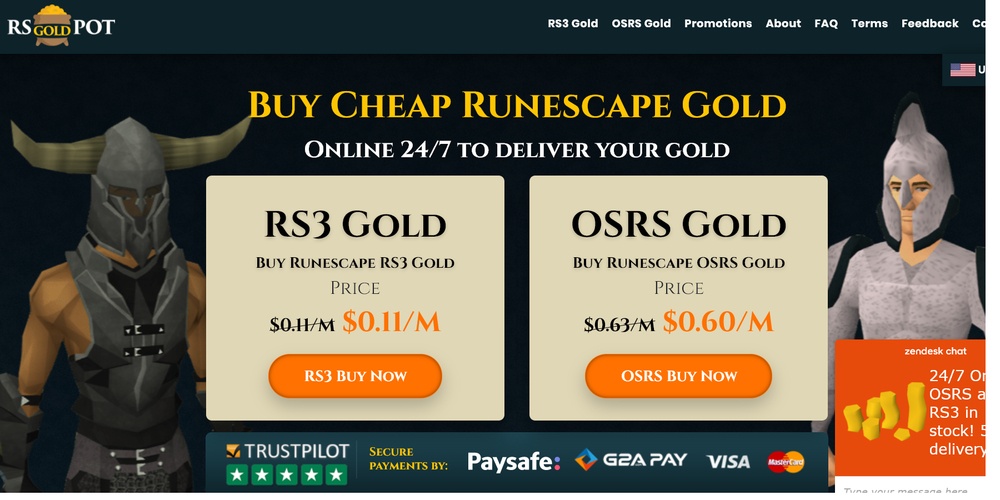 Our RSGoldPot Review
One thing that immediately stood out about the RSGoldPot platform was how straightforward everything is. The website's UI is easy to understand, with no unnecessary clutter and icons for all the essential functions following a convenient layout.
Another thing we like about RSGoldPot is the process of buying RuneScape gold. It is fast and efficient. We purchased some OSRS gold, and it took only a few minutes for the platform's representative to meet us in the game and transfer the gold.
However, we would have liked to see a bit more payment options. While all the popular payment options are available, and the site also accepts payment through Bitcoin and Ethereum, only a handful of options are available. Users that don't have access to the ones available on the site wouldn't be able to benefit from this site.
Shifting to a more positive note, the RSGoldPot has an impressive customer support network. We tried contacting them through the live chat support and got matched with a support representative within seconds. Concluding this RSGoldPot review, it is worth a try. However, we feel there are better options if you are looking for more features and better pricing.
RSGoldPot Key Features
You can buy OSRS and RuneScape 3 gold at RSGoldPot.
RSGoldPot has hundreds of reviews and an excellent rating of 4.8 stars on Trustpilot.
Deposit options include Visa, MasterCard, and Zen.
Crypto payments can also be made using Coinbase.
One Million OSRS Gold Costs $0.42.
One Million RuneScape 3 Gold Costs $0.06.
Claim RSGoldPot Free Bonus
Go to RSGoldPot using our link.
Make a purchase.
Enjoy your free bonus!
RSGoldPot Summary
| Our rating | 3.75 |
| --- | --- |
| Usability | Standard |
| Languages | 1 |
| OSRS price | $0.42/M |
| RS3 price | $0.06/M |
| Official website | RSGoldPot.com |
RSGoldPot Alternatives
Frequently Asked Questions
✔️What is RSGoldPot?
RSGoldPot is an online store for RuneScape gold where users can buy in-game gold for OSRS and RuneScape 3 using cash.
✔️Is RSGoldPot Legit?
The platform delivers on what they advertise and exceed customer expectations. We tried their services and can confirm that RSGoldPot is 100% legitimate.
✔️Is RSGoldPot Trustworthy?
This site is trustworthy because they go above and beyond to ensure that the user feels secure and satisfied after making a purchase. We have our experience with the platform to back that claim.
✔️Did Anyone at RSGoldPot Get Scammed?
No one has gotten scammed on this site. We looked at hundreds of user reviews which reassured us that RSGoldPot doesn't engage in dishonest practices.