Need to purchase OSRS or RuneScape 3 gold? Why not check out RSMills? We know, what if it doesn't meet all your requirements? Well, that's what we are here for. We tested the site and reviewed it. To make an informed decision and learn more about all the pros and cons of the platform, keep reading this RSMills review.

This RSMills review was updated in 2023.



Here is a list of some of the best and worst of what RSMills has to offer:
Pros
The site offers 24/7 customer support via live chat.
RSMills has several secure payment methods, including PayPal and Mastercard.
The site accepts payments through crypto as well.
Users can change the website's display currency, choosing from five different options.
If the buyer doesn't want to go through with the gold transfer process, the site provides a full refund within 72 hours of purchase.
Cons
The pricing at RSMills is a bit on the higher side, especially for RuneScape 3 gold.
About RSMills
RSMills is an online RuneScape gold store where you can purchase in-game gold for both OSRS and RuneScape 3. You can buy gold at a rate of $0.43 per million for OSRS gold and $0.06 per million for RuneScape 3 gold.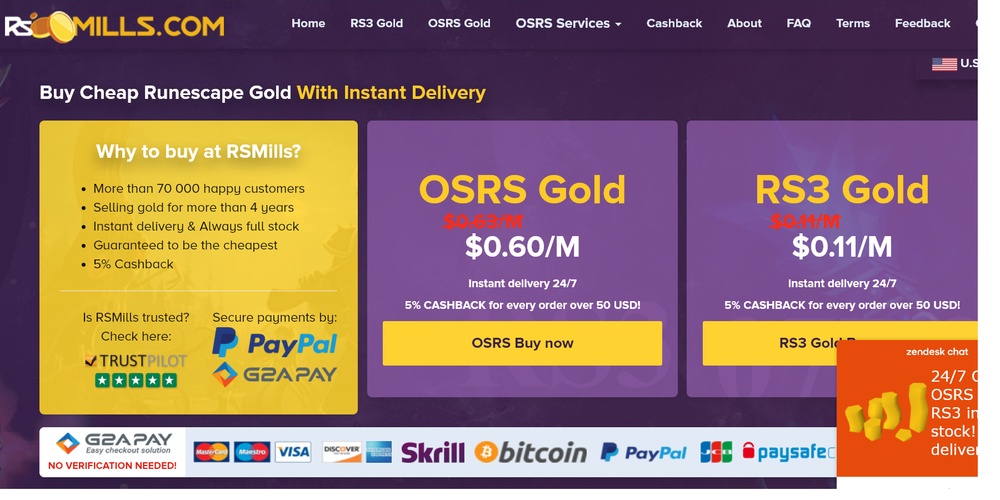 Our RSMills Review
We tried the site, and one of the main things we liked about RSMills was that the transactions were seamless and fast. The delivery was instantaneous, as promised.
After making the payment, we met with the platform's representative in the game within minutes, and we received all our gold in no time. The whole process was surprisingly fast, and we experienced zero headaches. That's probably why the site has thousands of positive reviews on Trustpilot, with an impressive 4.8-star rating.
We looked at several user reviews and found that nearly every user has had a positive experience on the RSMills platform. The platform also offers 24/7 live chat support. We tried contacting a customer support agent and got a response within two or three seconds. That's surprisingly fast, even compared to some of the big names in this industry.
Concluding this RSMills review, it is a decent platform. However, the pricing could be better since we found several platforms that offer lower prices for RuneScape gold. We feel there are better options that provide lower pricing plus more features.
RSMills Key Features
OSRS gold for $0.42/M.
RS3 gold for $0.06/M.
Thousands of positive reviews on Trustpilot with an excellent rating of 4.8 stars.
The average delivery time is less than 5 minutes.
24/7 customer support through live chat.
Secure payments via PayPal, Visa, Credit cards, G2A Pay, and CoinBase.
Claim RSMills Free Bonus
Go to RSMills using our link.
Make a purchase.
Enjoy your free bonus!
RSMills Summary
| Our Rating | 3.5 |
| --- | --- |
| Usability | Easy to use |
| Languages | 1 |
| OSRS price | $0.42/M |
| RS3 price | $0.06/M |
| Official website | RSMills.com |
RSMills Alternatives
Frequently Asked Questions
✔️What Is RSMills ?
RSMills is an online store for RuneScape gold. The site sells in-game gold for both RuneScape 3 and OSRS.
✔️Is RSMills Legit?
A lot of user reviews for RSMills are positive. However, we tried the site ourselves. Fortunately, we experienced great service and can confirm that the site is legitimate.
✔️Is RSMills Trustworthy?
We bought some gold for OSRS from RSMills. The platform's representative met us in the game within minutes, and the whole process felt extremely safe. We are confident that the platform is trustworthy.
✔️Did Anyone at RSMills Get Scammed?
There aren't any reports of any users getting scammed at RSMills. Most reviews are highly positive.