So you want to use RustyTrade for Rust skin trading but can't decide if it is the best platform for you? To make this decision easier, check out our RustyTrade review that uncovers all its pros and cons. Keep reading to learn more about what the site has to offer.

This RustyTrade review was updated in 2023.



Here is a list of some of the best and worst of what RustyTrade has to offer:
Pros
Since RustyTrade uses a trading bot, the trading process on the platform gets completed very quickly.
The overall design of the website is clean and easy to understand.
There is not much clutter on the website.
The RustyTrade website is very responsive and easy to navigate.
Cons
The inventory of the RustyTrade platform is not that large compared to other Rust skin trading platforms.
The theme of the RustyTrade website and the colors used are bland and not that appealing.
The site does not offer a live chat support feature.
About RustyTrade
RustyTrade is an online skin trading platform for Rust skins, which uses a trading bot for making trades. The platform also uses a very minimalistic approach with little to no clutter on the website and only the most essential features. The only deposit and withdrawal options available include Rust skins.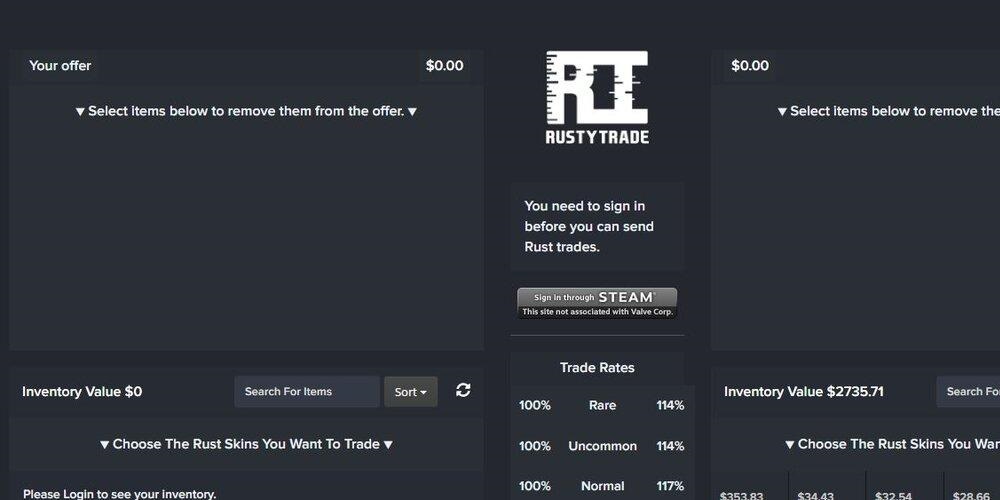 Our RustyTrade Review
The main thing we noticed about the RustyTrade platform while trying it out was how straightforward it was. The platform is all about Rust skin trading, and that's it.
Fortunately, the platform does it very well by focusing on just Rust skin trading. Users of the platform don't have to worry about tons of options. All they have to do is log in with Steam and start trading instantly.
The website is also easy to navigate. The website feels incredibly fluid, with little to no delays experienced while using different features.
As far as our RustyTrade review is concerned, we like the site. Along with the website being fast and efficient, the overall trading process is also quick. It is because RustyTrade uses a trading bot for all trades.
To conclude this review, it is certainly a great Rust Skin trading platform for people that prefer minimalism. Because of its legitimacy, trustworthiness, and impressive features, RustyTrade easily gets a spot on our recommended list.
RustyTrade Key Features
Only skin trading is available at RustyTrade.
Several great reviews for the RustyTrade platform can be found in different places on the internet.
Deposits can be made with Rust skins on the RustyTrade platform.
Withdrawals can be made with Rust skins on the RustyTrade platform.
Claim RustyTrade Free Bonus
Go to RustyTrade using our link.
Register an account.
Enjoy your free bonus!
RustyTrade Summary
| Our rating | 4.3 |
| --- | --- |
| Usability | Very easy to use |
| Languages | 1 |
| Year established | 2018 |
| Official website | RustyTrade.com |
RustyTrade Alternatives
Frequently Asked Questions
✔️What is RustyTrade?
RustyTrade is an online skin trading platform for Rust skins. The RustyTrade platform uses a trading bot that allows users to make fast trades.
✔️Is RustyTrade Legit?
With transparent fees and a net positive reputation, there is no doubt that RustyTrade is a one hundred percent legitimate platform. We also did extensive research and found no concerns related to legitimacy.
✔️Is RustyTrade Trustworthy?
To make this sure, we tried their services ourselves. We made several successful trades with no issues. We can conclude that the platform is trustworthy.
✔️Did Anyone at RustyTrade Get Scammed?
The RustyTrade platform has completed tons of trades and has hundreds of user reviews. From the reviews we looked at, we didn't find a single credible scam accusation.