There are countless places online where players can buy RuneScape gold for real money. Since all those places claim to provide the best service, finding one that suits your preferences can be tricky. If you are on the fence about TheRSGold, we are here to help you. We reviewed the site after using their services to help you make an informed decision. Keep reading to learn more about the pros and cons of TheRSGold.

This TheRSGold review was updated in 2023.



Here is a list of some of the best and worst of what TheRSGold has to offer:
Pros
The price for RuneScape 3 and OSRS gold at TheRSGold is pretty low.
The platform offers a 24/7 chat support feature.
The site has other features like power leveling.
The website's design feels nostalgic, especially for users who started playing RuneScape when it launched.
All popular payment options like PayPal, Credit cards, and more are available on the site.
TheRSGold also accepts payments through Bitcoin.
Cons
UI needs some improvement.
About TheRSGold
TheRSGold is an online store where users can buy RuneScape gold for OSRS and RS3. The price for OSRS gold is $0.42 for one million units of gold and $0.05 for one million units of RuneScape 3 gold.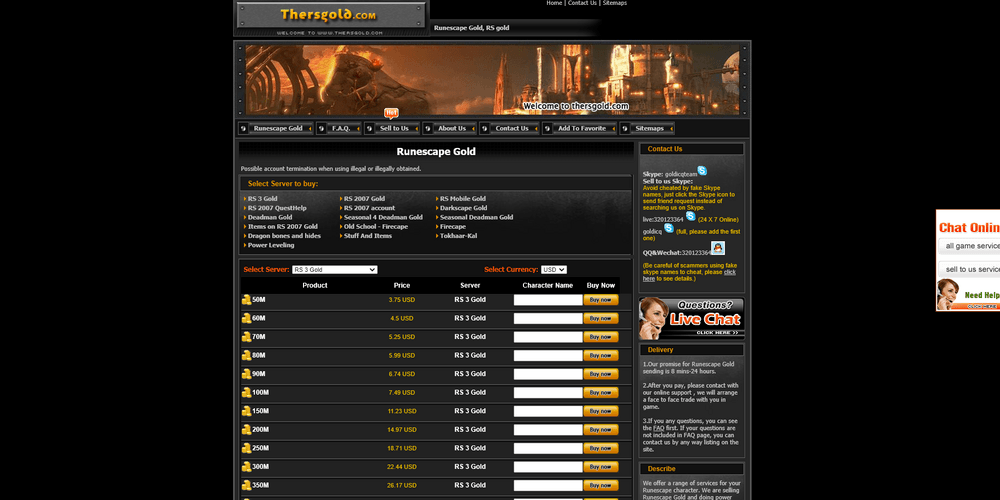 Our TheRSGold Review
We found that TheRSGold is a competitive and experienced online gold market, offering some of the cheapest RuneScape 3 and OSRS gold. We could not find many trusted platforms that offered RuneScape 3 or OSRS gold for as cheap as this site.
While some might think the website's design is its weakest point, it is not bad. The website's appearance was nostalgic and took us back to the older RuneScape days.
While the website's design is okay, the UI is not up to the mark. We had trouble navigating through the different pages and felt some lag. Icons were cluttered everywhere, and finding stuff was not easy.
Shifting to a more positive note, TheRSGold has all the payment options anyone could need. The site also accepts payments through crypto, which is a big plus in our book.
Concluding this TheRSGold review, it is an okay platform for anyone looking to buy cheap RuneScape 3 and OSRS gold. However, pricing is not everything. We feel there are better options with more features.
TheRSGold Key Features
Gold for OSRS and RuneScape 3 is available.
The site also offers other services, including power leveling.
Old School RuneScape gold costs $0.42/million.
RS 3 gold costs $0.05/million.
24/7 chat for any questions or concerns.
Plenty of popular payment options.
Claim TheRSGold Free Bonus
Go to TheRSGold using our link.
Make a purchase.
Enjoy your free bonus!
TheRSGold Summary
| Our rating | 3.0 |
| --- | --- |
| Usability | Standard |
| Languages | 1 |
| OSRS price | $0.42/M |
| RS3 price | $0.05/M |
| Official website | TheRSGold.com |
TheRSGold Alternatives
Frequently Asked Questions
✔️What is TheRSGold?
TheRSGold is an online RuneScape gold store for OSRS and RuneScape 3. The site also offers other services like power leveling and more.
✔️Is TheRSGold Legit?
TheRSGold is a legitimate business. We used their services and found that they deliver everything they promised. We also found no red flags.
✔️Is TheRSGold Trustworthy?
We bought some OSRS gold from TheRSGold and faced no issues. We can confirm that it is a trustworthy platform.
✔️Did Anyone at TheRSGold Get Scammed?
Not that we could find. We looked at a ton of user reviews. However, we were not able to find a single credible scam accusation against the TheRSGold platform.