Can't decide if YanliliGold is a decent online RuneScape gold store? Don't know whether it's even worth your time? Well, we are here to assist you with precisely that. To help you decide, we tested the site, used all its features, and created a review. To learn more about the pros and cons of the site, keep reading this YanliliGold review.

This YanliliGold review was updated in 2023.



Here is a list of some of the best and worst of what YanliliGold has to offer:
Pros
Along with gold for Runescape 3 and OSRS, users can also buy in-game currencies for Albion and New World.
YanliliGold will also buy RuneScape gold from users and give them cash in return.
The platform has a live chat support feature.
Users can change the website's display currency, choosing from five different options, including the Euro and Canadian dollars.
YanliliGold allows users to make payments using cryptos as well.
The platform also sells RuneScape accounts full of valuable items.
Cons
Popular payment methods like Visa and MasterCard are not available at YanliliGold.
Customer support is a bit slow.
About YanliliGold
YanliliGold is an online store primarily for Rune Scape 3 and OSRS gold, but it also sells in-game currencies for other games. At YanliliGold, the price of one million gold for Runescape 3 is $0.04 and $0.35 for OSRS gold.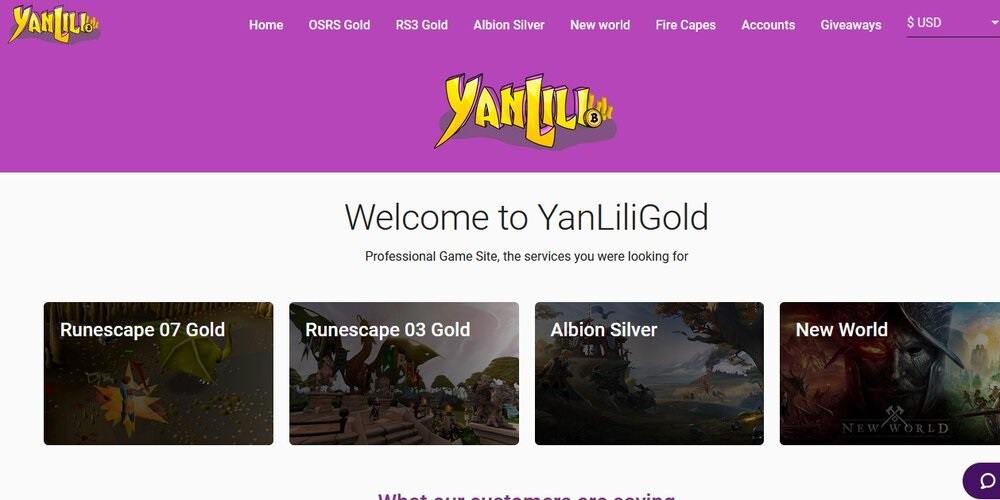 Our 
YanliliGold

Review

We used the YanliliGold platform and had a decent experience. The process of buying gold was fast and hassle-free. We purchased some OSRS gold and met in-game with their representative within minutes of the payment. Shortly after that, we had all the gold. It is probably why the site has so many great reviews on Trustpilot.

One thing we like about YanliliGold is that they went the extra mile to ensure good customer service by offering live chat support. Their strong customer support team is available 24/7. Also, the prices for Runescape 3 gold and OSRS gold at YanliliGold are on the lower side.

Another great thing about the YanliliGold platform is that they don't just sell gold for Runescape 3 and OSRS, but they also sell in-game currencies for New World and Albion. You can also sell to the platform for real cash.

However, there are some issues with YanliliGold. Firstly, while the site has polite and knowledgeable support agents, the support system is a bit slow. We had to wait for quite a while before we got a chance to talk with a support agent. Also, the platform doesn't accept popular transfer options like Visa or Mastercard.

Concluding this YanliliGold review, it is an OK platform for buying some OSRS or Runescape 3 gold. However, we feel there are better options with more features.
YanliliGold Key Features
Games/Activities: Purchase OSRS and Runescape 3 Gold; Purchase in-game currencies for New World and Albion.
YanliliGold has an excellent 4.9-star rating with hundreds of reviews on Trustpilot.
Crypto Payment Methods: Bitcoin, Ethereum, Tether, USD Coin, and Tron.
The price for 1 Million OSRS Gold is $0.35.
The price for 1 Million Runescape 3 Gold is $0.04.
Claim 
YanliliGold

Free Bonus
Go to YanliliGold using our link.
Register an account.
Enjoy your free bonus!
YanliliGold Summary
| Our rating | 3.0 |
| --- | --- |
| Usability | Standard |
| Languages | 1 |
| OSRS price | $0.35/M |
| RS3 price | $0.04/M |
| Official website | Yanliligold.com |
YanliliGold Alternatives
Frequently Asked Questions
✔️What is YanliliGold?
YanliliGold is a website where users can buy gold for OSRS and Runescape 3. Users can also purchase in-game currencies for New World and Albion.
✔️Is YanliliGold Legit?
After using the YanliliGold platform, we found no issues related to its legitimacy. We can confirm that it is a legitimate site.
✔️Is YanliliGold Trustworthy?
With an excellent 4.9-star rating on Trustpilot and our extremely positive experience with the site, we do not doubt that the YanliliGold platform is 100% trustworthy.
✔️Did Anyone at YanliliGold Get Scammed?
Since YanliliGold started operation, it has provided its service to many satisfied users. Of those users, there has not been a single scam accusation, which we have confirmed after looking at multiple user reviews.