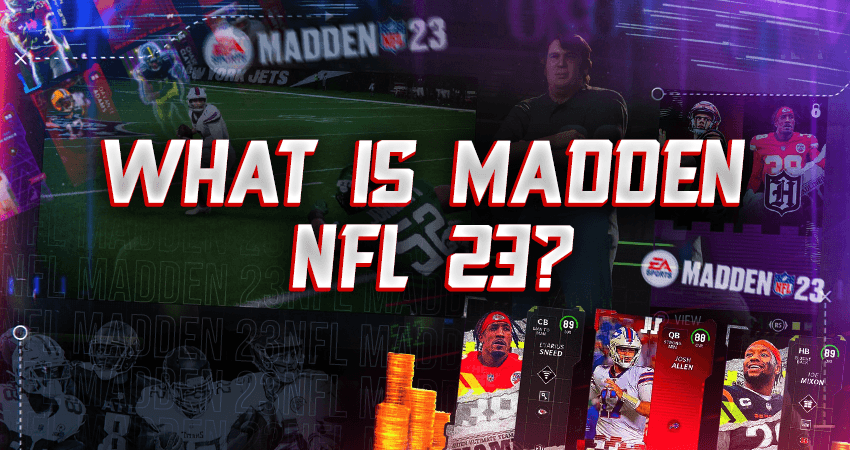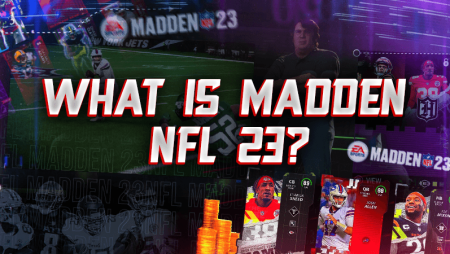 Intro to NFL Madden 23
If you know anything about American football or sports simulation video games, then you have probably heard of Madden NFL 23. Madden NFL 23 is the latest installment of the famous American football video game series "Madden NFL," based on the National Football League, or the NFL.
Madden NFL 23 is available on all popular platforms, including Windows, PlayStation 4, PlayStation 5, Xbox One, and Xbox Series X/S. If you haven't started playing NFL 23 yet and want to learn more about the game, keep reading because we have a detailed explanation of everything you need to know about Madden NFL 23.
Who Made NFL Madden 23?
Players that have played sports simulation games like Fifa 23 are probably familiar with EA Sports. EA Sports is the subdivision of one of the world's most notable video game development organizations, Electronic Arts (EA), which has given us some of the world's most popular and game-changing video games, like the Battlefield Series and Apex Legends.
EA Sports is primarily responsible for developing and publishing sports simulation or sports video games like the Fifa series. EA Sports also published Madden NFL 23. Madden NFL 23 is developed by EA Tiburon, which is one of the development studios for Electronic Arts.
When Did NFL Madden 23 Come Out?
As we have already discussed, NFL Madden 23 is a part of the Madden NFL video game series, with the first-ever Madden NFL game launching back on the 1st of June, 1988. After that, a new NFL game has been getting launched almost every year, with the latest installment being Madden NFL 23.
The official reveal trailer for Madden NFL 23 got released on the 2nd of June, 2022. It is safe to say that after this reveal trailer, fans got super hyped for the game's launch. Madden NFL 23 launched on the 19th of August, 2022.
NFL Madden 23 Gameplay Explained
Madden NFL 23 is a sports simulation video game based on American football. The developers are constantly trying to make the game as realistic to the actual sport as possible, which is why we get a new title almost every year. It means that the gameplay of Madden NFL will also be based on the actual sport itself, with many gameplay elements feeling similar to American football.
The gameplay of NFL Madden 23 includes movement mechanics like catching the ball, diving, QB sliding, covering the ball, hot routing, pass rushing, scrambling, intercepting, swatting the ball, tackling, and more. All of these moves are from American Football. In the same way, the main objective in a match of NFL Madden 23 is the same as the objective of a match of American football.
NFL Madden 23 is a 2.5D style game, where the perspective is from the top down, and players can see almost the entire court. To perform all the moves mentioned above, players can control one of all the players in their team while the other players remain in AI mode, which means they do their own thing.
Every year, the latest Madden NFL video game gets several changes in the game physics and the AI players, with everything becoming more realistic and more enjoyable, which is the case with NFL Madden 23 as well. New stuff we got this time around includes new injury animations, movement mechanics improvements, improvements in AI-Quarterbacks, and more. With NFL 23, we also get the brand new FieldSENSE system that allows players great control over every position in a match.
NFL Madden 23 is all about giving players a complete American football experience, which is why it also has the Madden Ultimate Team Mode, where players get to become team owners and build a team of some of the best NFL stars.
NFL Madden 23 Economy Explained
As we have already discussed, NFL Madden 23 allows players to enjoy the experience of being an NFL team owner through the Madden Ultimate Team of MUT team mode. In this mode, players can acquire some of the top NFL starts in the world and then build a great NFL team.
However, to acquire players in the MUT game mode, players will need coins, which brings us to the economy of the NFL 23. The economy of NFL Madden 23 revolves around coins, which act as the primary currency.
What can you do with coins in NFL 23? Well, what can you do with Gold in Lost Ark, Apex Coins in Apex Legends, or POE Currency in Path of Exile? You can buy stuff with them. In the same way, coins in NFL Madden 23 are used to purchase in-game items, NFL Stars from the Auction House, and MUT packs.
To get coins in NFL Madden 23, you will have to spend several hours playing the game, or you can buy them with real cash. To buy them, check out our list of the best places to buy Madden NFL 23 coins, where we have included some of the top marketplaces after extensively reviewing them.
What's the Point of NFL Madden 23?
When you play video games like Mafia 2 or Cyber Punk 2077, you know that there is a clear end goal of the game, which is to go through the story of the game and then reach the conclusion of the story. However, NFL Madden 23 is not a game like that.
The point of NFL Madden 23 is to experience everything related to American football, which includes coming up with winning strategies for an American football match, using the moves available to win the match, and building a team with some of the world's best NFL stars.
Is NFL Madden 23 Hard to Play?
The short answer is no. NFL Madden 23 is not at all hard to play. Even if you have never played a game like this, you can get into it and see great success even after a few weeks or even days of playing the game.
While getting into NFL Madden 23 is easy, reaching the top level of competitive play is not going to be a walk in the park. There are a ton of other players that have mastered the game to reach the top level, and they aren't going to give that spot away easily.
How to Get Better at NFL Madden 23?
While becoming one of the best NFL Madden 23 players is not easy, there are many ways you can improve your performance in the game and make things feel a bit easier.
One of the best ways to get better at NFL Madden 23 is to watch some real-world NFL matches. Since the game is very similar to NFL, it only makes sense that players with good knowledge of the sport will do better in NFL Madden 23.
Another great way to improve at NFL Madden 23 is by testing coaching adjustments in practice mode. With this new feature coming to NFL Madden 23, players can play around with settings for coaching adjustments until they find the right one.
While getting better is nice, if you want to make the game feel easy for you, you need to acquire the top NFL stars. They will perform better in a match and make fewer mistakes, which will help you win more.
While all of those strategies are great, you won't be getting anywhere if you ignore the practice. For this reason, the best advice we can give you is to practice as much as possible and do it regularly.
How Many People Play NFL Madden 23 NOW?
If we take a look at the Steam Charts for NFL Madden 23, we can see that the average concurrent player count numbers for the game are as low as 500 players and as high as 2200 players. This range is because of the variation of concurrent players during peak hours and non-peak hours.
With that said, these are just the PC numbers. NFL Madden 23 is much more popular on consoles than on PC. For this reason, we can conclude that the actual average concurrent player count number is quite higher.
Why is NFL Madden 23 so Popular?
Americans, and a ton of people from around the world, love American football. It only makes sense that some American football fans would start playing Madden NFL 23 or other Madden NFL games since the Madden NFL series is based on American Football.
This popularity of the American football sport itself is one of the main reasons why NFL Madden 23 is soo popular. NFL Madden 23 and American Football are a part of a huge ecosystem where tons of people engage in activities such as watching the super bowl or playing NFL Madden 23.
Not only is the NFL Madden series a sports simulation game based on the actual NFL, but it is also the only game that does it soo good that it feels very similar to the sport. NFL Madden 23 is designed to be as realistic and as close to the actual thing as possible.
Along with that, NFL Madden 23 has managed to develop a way to transfer movements of the sport onto a controller, where the game feels fun, interactive, and real at the same time.
Is NFL Madden 23 Dying?
NFL Madden 23 launched in August, and it saw a peek in the concurrent player count numbers just a few days later, which was around 3700 concurrent players. However, since then, the numbers have dropped to an average concurrent player count of 1500.
A person looking at this would assume that NFL Madden 23 is dying because the player count numbers are dropping. While it is true that the numbers are currently down, it doesn't mean that the game is dying. Instead, as we are about to explain, the game is actually doing quite well.
The thing is, these concurrent player count numbers are actually high as compared to the previous NFL title, which was around 1300 average concurrent players for the launch month. The game slowly started to gain more players and reached a peak average concurrent player count about six months after the launch.
Judging by the fact that NFL Madden 23 was well received, even slightly better than the previous title in some cases, we can conclude that the game will attract more players in the coming months as more players switch from the previous title to the newer one. So, NFL Madden 23 is not dying.
Conclusion
Madden NFL 23 is the next generation of NFL simulation video games, with incredibly realistic physics and graphics that make you question whether they are even virtual. For fans of American football, it is one of the best ways to get the ultimate American football experience.
Getting into the game is also super easy. It is not difficult at all, and you can get really good with a bit of practice. If you haven't yet played the game, you should do it right now because it is a great game, especially for American football fans.