So you heard about RustVendor and are now wondering if you should start using it to trade your Rust skins. To help you answer this question, here is our extensive and unbiased RustVendor review, that uncovers all its pros and cons and all the features that it has to offer.

This RustVendor review was updated on September 2022.



Here is a list of some of the best and worst of what RustVendor has to offer:
Pros
Along with Rust skins, popular cryptocurrencies are also available as deposit options at RustVendor.
The overall design of the website is very minimalistic which makes it very easy to navigate through.
The website for the RustVendor platform is responsive with smooth animations.
The FAQ section available on the RustVendor website is extensive and covers nearly all aspects and questions that a person may have.
Cons
Customer support for RustVendor is not the most efficient when compared to other skin trading platforms.
At the RustVendor platform, there are not a lot of skins to choose from for making trades.
About RustVendor
RustVendor is an online skin trading platform that launched recently in 2021. At the RustVendor platform, only Rust skins can be traded, and the only withdrawal method is Rust skins. Players can trade in all unwanted skins for skins they want. RustVendor also gives a 2% discount to players that join the Steam page.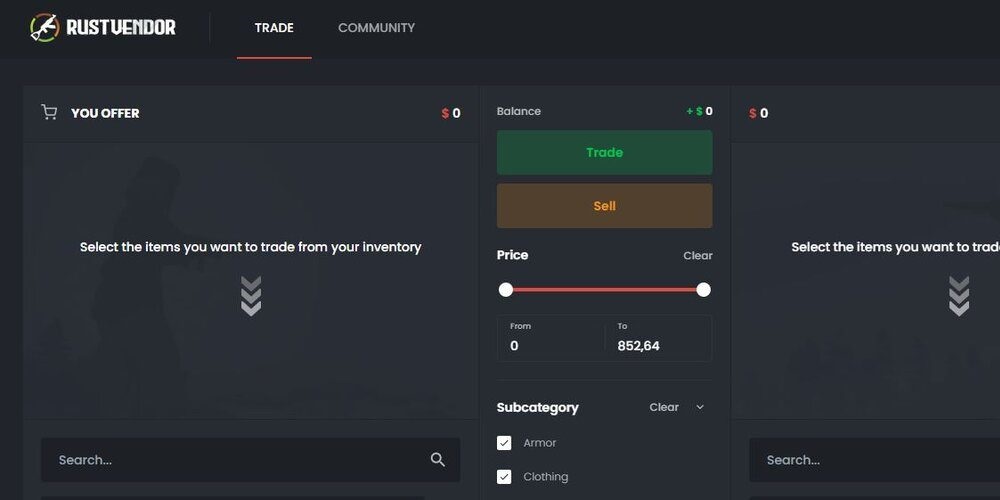 Our RustVendor Review
When it comes to skin trading platforms, you can't get any more minimalistic or bare-bones than this. RustVendor is a straightforward platform. There is not much fluff to deal with and all the important icons are all there on the main page of the website. While using the platform ourselves, the website also seemed super easy to use. We experienced little to no lag while navigating through different pages of the website.
All that bare-bones stuff that we mentioned is not a bad thing in any way. This makes the whole process of skin trading much easier and beginner-friendly. However, to appeal to a wider audience crypto payment methods are also available at the RustVendor platform, including Bitcoin, Ethereum, and Litecoin. Concluding this RustVendor review, it is a great platform for people looking for a straightforward and minimalistic approach for trading in all their unwanted Rust skins.
RustVendor Key Features
Only Skin Trading is available on the RustVendor platform.
Several great reviews for the RustVendor platform can be found in different places on the internet.
Crypto payment options include Bitcoin, Ethereum, and Litecoin.
Players can also make deposits with Rust skins.
Withdrawals can be made with Rust skins.
Claim RustVendor Free Bonus
Go to RustVendor using our link.
Register an account.
Enjoy your free bonus!
RustVendor Alternatives
Frequently Asked Questions
✔️What is RustVendor?
RustVendor is a recently launched skin trading website for Rust skins, which launched in 2021. Players can use the RustVendor website to trade in their unwanted skins.
✔️Is RustVendor Legit?
With one of the fastest trading bots and the SSL encryption protocol available on the website, the RustVendor platform is one hundred percent legitimate.
✔️Is RustVendor Trustworthy?
Despite being launched recently in 2021, the RustVendor has provided its service to a large number of users. This makes the platform completely trustworthy.
✔️Did Anyone at RustVendor Get Scammed?
Of the tons of users that use the RustVendor platform regularly for trading their skins, not a single credible scam accusation has surfaced.